Cross Country heads to Girard
Logue eager to pit Lions against son's squad
When the Lansing High cross country team competes at 4:30 p.m. today at the Girard Invitational, the Lions will line up against an opponent that is coached by a friendly face.
Girard High cross country coach Matt Logue is the son of LHS coach Errol Logue.
"We have a lot of fun," Errol Logue said of the competition between his and his son's teams. "Both of us have big phone bills during the season, and we know about as much about each other's teams as we do our own. It's a blast."
The younger Logue was a member of three state-championship cross country teams at Lansing and also was a two-time individual champ.
Girard had disbanded its cross country program long before Matt Logue was hired to teach at the school, but at his prodding, the school reinstated the program in 1994. Now it is home of one of the top 4A programs in the state.
"He's doing a really good job down there," the elder Logue proudly said of his son. "Cross country about died out down there, and he restarted the program. Now they've got about 30 kids out, and they do pretty good.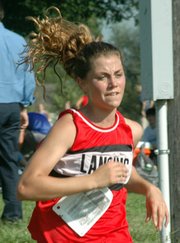 "They were fifth at state last year, which is the best they ever did at state before," he added. "Right now, they're ranked sixth and have one of the best individual girl runners in the state."
Errol Logue said the eight-team meet at Girard would be a good test for his Lions, and he noted that the course would be relatively flat because it will take place on the fairgrounds.
"We usually get some pretty good times on it," he said of the course.
Logue said he was excited to see what his Lions could do in their second meet of the season. LHS opened the year Thursday at the Tonganoxie Quadrangular and received a number of solid performances. Junior Bianca Manago had been plagued by asthma troubles in the past, but she didn't let them bother her Thursday as she placed fourth in the varsity girls' race.
"I've done a lot better this year (handling my asthma), and definitely my mental status is better," said Manago, who cruised the two-mile course in 13:54.
Senior Ashley Mayes joined Manago as Lansing's only medalists. Mayes placed 10th. Senior Erin Eustice was 14th.
In the varsity boys' race, sophomore Griffin Davis missed medaling by one spot as he placed 11th on the five-kilometer course in a time of 19:45.
"Davis ran an awfully good race," Logue said. "He's got to get a little bit better and a little more aggressive, but I thought he ran real well."
Sophomore Jim Mayes placed 13th, and senior Stewart Jones was 14th. Matt McCurry (21st) and Jason Gibson (23rd) rounded out the varsity runners.
Junior Lori Flippo, a transfer from Leavenworth High, paced the junior varsity girls as she placed third. Freshman Wes Applegate led the boys' squad in the JV race, placing 17th.