JV

tennis cruises at home dual
The Lansing High tennis team had just one home meet all season - a junior varsity dual against Washington - but the Lions made the most of their lone shot at home court advantage.
The Lions collected a 4-0 sweep on Thursday at the LHS courts as both singles teams and both doubles teams cruised to easy victories.
Junior Abby Hauver won her match at No. 1 singles 6-0, 6-0, as did sophomore Christine Cordes at No. 2 singles.
Lansing's No. 1 doubles team of sophomore Lauren Elkins and freshman Chelsea Harrington picked up a 6-0, 6-0 victory. In the other doubles match, sophomores Lauren Anderson and Sarah Sargent won 6-0, 6-3.
"I'm happy because what they did is they executed our game plan today," Lansing coach Rachel Elkins said.
The game plan against Washington involved the Lions altering their typical playing style. Normally an up-tempo, power-hitting team, they instead played a more patient style against Washington's softer hitters.
Photo Gallery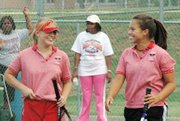 JV tennis cruises to home victory
The Lansing High junior varsity girls tennis team cruised to a 4-0 home dual victory against Washington on Thursday. Here are scenes from the meet.
"I told the girls that you would really need to have patience today," Rachel Elkins said. "We practice a lot of top spin and power, but I said 'this is more of a finesse game today. Patience and finesse, and just get it back deep on the baseline. I felt like they executed the plan that we had today."
Most of Lansing's players were more experienced, which contributed the mismatch, but Rachel Elkins said it was important that her players were able to maintain their focus throughout the match and work on improving their individual strokes.
The slower pace allowed them to focus on each individual stroke and, as Elkins has preached to her players, convert those motions to "muscle-memory."
"I also think it really makes them concentrate on watching the ball," she said of the slower pace. "We practice a skill called soft hands, and even on soft hands you still come all the way through (with your follow through). It shows them that the stroke is the same. It's just a different tension."
The first-year coach said she was pleased with all six of her players and the progress they made on Thursday.
One player in particular who Elkins said she was most eager to watch was Hauver, a first-year tennis player. She played doubles with Michaela Bristow last week at Mill Valley, but Elkins wanted to see how Hauver handled a singles match.
"I thought she did well," Elkins said. "She can correct herself, which is impressive at this point. She'll go, 'I know. I need to follow through. Even on soft hands, she knew that and she corrected herself."
Other players stood out too.
"I think that Chelsea Harrington is coming along and learning a little bit of patience," Elkins said. "I think my daughter Lauren is doing the same. She's realizing that you don't have to power everything. They all showed that patience."
"On that second doubles team, I want to work more to take a little bit of the arc of the serve, to make it a little bit flatter and make it more of a weapon."
The junior varsity Lions next play at 3:15 p.m. Tuesday at Bonner Springs. Then the varsity squad will open its season at 8:30 a.m. Wednesday at the Baldwin Invitational.