Lions have faith in Grape
The big question entering Lansing High's football season-opener against Tonganoxie was whether junior tailback Kyle Grape could handle the task of replacing injured senior Jeff Slater.
Grape left no doubt he was a capable successor as he scored two touchdowns in the fourth quarter - the first on a one-yard plunge up the middle and the second on a 26-yard screen pass from senior quarterback Matt Warner - and led the Lions to a 14-10 victory over the rival Chieftains.
"I had quite a bit of pressure on me," Grape admitted. "I was coming in for my first start. And then to be playing Tongie : That's a big game because we haven't won our first game in three years, and we haven't beat Tongie in three years."
Grape struggled early in the game, as did the entire Lansing offense. But after falling behind 10-0 just two minutes into the second half, the Lions finally found their groove and began gaining positive yardage. Plenty of credit for the turnaround can be attributed to offensive linemen Peter Willcott, Brian Cordes, Chris Clemmons, Jordan Pratt and Logan Ryan for doing a better job of blocking, but Grape, too, earned a lot of credit. After appearing timid for most of the first three quarters, Grape looked like a seasoned veteran down the stretch.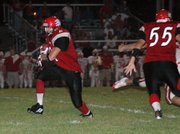 "When Grape runs the football and he runs out of room, he's not afraid to run at you and hit you before you hit him," LHS coach Bill Pekarek said. "He's a pretty tough kid. He's a 5A state wrestling champion. He's a pretty tough nut."
While Grape praised his teammates for doing a good job blocking for him, the Lions lauded him right back.
"He was hitting it hard in the second half. He was hitting the hole real hard," senior tight end David Kern said. "We've got confidence in him now, and hopefully he'll have self-confidence too."
Added lineman Ryan: "Right now I'm pretty confident in all of our offense. We started stepping it up there in the second half and started showing what we can do."
The next test for LHS is at 7 p.m. Friday when they play host to Mill Valley. The Jaguars drilled the Lions 42-13 last year, but they lost a majority of their key players from 2004. They were lost 26-6 to Turner last week during their season-opener and scored their lone touchdown on a 90-yard kickoff return by Justin Woods.
It was speculated among the Kaw Valley League football coaches that Lansing, Mill Valley and Tonganoxie would be the teams to beat for the league title this year. A win Friday, matched with the victory against Tongie last week, would put the Lions in good position to win the KVL title.
"Hopefully we can knock them off and be in pretty good position for the Kaw Valley League (title)," Pekarek said.