Woods leads Mill Valley past Lansing
Jaguars' running back gains 224 yards, three touchdowns on the ground
The Lansing High football team had every opportunity to beat Mill Valley and take early control of the Kaw Valley League race, but the Lions came up short too many times and let Justin Woods find too much room to run.
Woods carried the ball 22 times for 224 yards and three touchdowns and Mill Valley rallied for a 28-21 victory Friday at Frank Graham Field.
"He's the guy that can go the distance in one play. We kept telling them that," LHS coach Bill Pekarek said of Woods' play. "We just looked like we were right there, but we're not making a tackle on him, we're not containing him, we're not bringing him down, so here he goes on these long runs. It was just ridiculous. We didn't play well on defense: not as well as we have."
The Lions (1-1 overall, 1-1 KVL) knew that Woods would be the Jaguars' primary - and only - weapon, and that was the case from the opening possession. Mill Valley got the ball first and handed the ball to Woods on four of its six plays during the opening drive. The sixth play went for a 35-yard touchdown sprint down the left sideline. Zak King's extra point made it 7-0 just 3:33 into the game.
Lansing responded with a 12-play, 64-yard drive that gobbled up 6:36 from the clock. Kyle Grape rushed for 41 yards during the drive and Matt Warner capped it with a 10-yard touchdown pass to David Kern. Ryan Robbins' extra point tied the game at 7-7 late in the first quarter.
Photo Gallery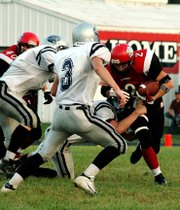 LHS football falls to Mill Valley
The Lansing High football team couldn't hold its lead or contain Mill Valley tailback Justin Woods as the Lions fell to the Jaguars, 28-21, on Friday night at LHS.
Mill Valley immediately went back to Woods for three straight carries, but on third and three, Robbins tackled Woods for a three-yard loss and forced the Jaguars to punt. The Lions had a chance to pounce when they got the ball on the Mill Valley 38-yard-line, but Warner was hit while throwing on the first play from scrimmage and the ball was intercepted by Chad Mauzey. A tackle-for-loss by Jason Bowman and a sack by Robbins forced the Jaguars to punt.
When the Lions got the ball back with 4:55 left in the first half, they immediately went to the air. Warner dumped the ball off to Lance Fink in the flat, and Fink leveled two would-be tacklers as he rumbled for a 28-yard gain. On the next play Warner connected with David Kern for a 47-yard touchdown strike.
The Lions took their 14-7 lead into halftime, thanks in part to Brett Wessel's sack that stalled out Mill Valley's final drive of the half.
The Lions got the ball first in the second half, meaning they had an opportunity to push their lead to two possessions right away. That didn't happen, though. After a two-yard loss by Grape on the first play, Warner completed a 10-yard pass to Robbins. Grape's run up the middle on third down wasn't enough for a first down, though, and LHS was forced to punt.
Lansing forced a three-and-out on Mill Valley's first possession of the half, but when Lansing got the ball back again, Warner threw an interception to Mauzey that was returned 35 yards for the game-tying touchdown.
The Lions turned the ball over on the next possession with a bad handoff between Warner and Fink. One play later, Woods streaked 61 yards down the left sideline for the go-ahead score with 6:31 left in the third quarter.
"We knew that he was their guy, and we tried our best to contain him, but as you can see he's a playmaker," Robbins said of Woods' long runs. "That's their guy. If he gets to the outside, he's a tough guy to bring down. Our game plan coming in was just trying to contain the outsides and keep him inside."
LHS answered in impressive fashion as they put together an eight-play, three-and-a-half-minute scoring drive. Fink started the drive with a seven-yard plunge up the middle. Grape added a five-yard carry. Fink rumbled for a 17-yard gain. Warner rolled out and tucked the ball for a 42-yard gain. Two plays later Warner plunged up the middle for a three-yard touchdown with 3:01 left in the third quarter. Robbins' extra point tied the game at 21-21.
With the game tied, the Lions seemed to have momentum back on their side. Robbins and Joe Kohl combined for a sack that forced a three-and-out on Mill Valley's ensuing possession. Lansing was unable to generate any offense on its next possession, though.
The Jaguars (1-1, 1-0) got the ball back with 10:17 left in the game and handed off to fullback Matt Westin on their first play. Westin was tackled for a four-yard loss by Robbin. Trouble arose on the play, however. Robbins had exerted so much energy by playing both ways all game that his legs cramped up and he was forced to the sideline. It was the same problem that sidelined the senior defensive end briefly in the season-opener against Tonganoxie.
"Oh man, it was killing me," Robbins said of the cramps. "I was trying to run up and down the sideline, trying to get (the cramps) out, because I needed to get back in there."
With Robbins on the sideline, Woods rushed the ball on the next two plays. The first went for a nine-yard gain. The second for a 75-yard touchdown where he burst down the right sideline, stiff-armed a tackler and cut back across the field as he raced to the end zone for what proved to be the game-winning touchdown.
The Lions were unable to muster much of a drive on their next possession, largely because the offensive line didn't block well enough for Warner to have time to throw the ball. Steve Lillard forced a fumble on Mill Valley's next possession, but LHS again coughed the ball up quickly. It was too little too late, and may have cost the Lions a chance at the league title.
LHS next plays at 7 p.m. Friday at Santa Fe Trail in Carbondale.
"We want to play better than we played tonight," Pekarek said. "We want to play better defensively. We want to play better offensively. Some of our special teams play could be a little bit better. We can get better in a lot of areas. We're not very pleased with this. I don't think we played to our full potential tonight."
NOTES
- Kyle Grape carried the ball 15 times for 56 yards. Most of those carries came in the first half, and most of the yards came on the first possession of the game.
- Matt Warner rushed 15 times for 51 yards and a touchdown.
- Lance Fink carried the ball eight times for 44 yards.
- Warner completed nine of 15 passes for 158 yards, two touchdowns and two interceptions.
- David Kern had three catches for 70 yards and two touchdowns.
- Fink had two catches for 49 yards.
- Justin Woods rushed 22 times for 224 yards for Mill Valley. The rest of the Jaguars rushed 17 times for negative-eight yards.
- The Jaguars attempted just three passes all game, completing one.
- Lansing had 12 first downs, compared to just four by Mill Valley.
- The Lions outgained the Jaguars 309 yards to 242 yards.
- Ryan Robbins had a team-high 14 tackles, eight of them unassisted.
- Joe Kohl had 12 tackles.
- Fink added seven tackles.
For photos and video from the Lions' game against Mill Valley, check back at lansingcurrent.com.