Lions place fourth in home tournament
LHS

goes 4-2 during season-opener
The last time the Lansing High volleyball team didn't make it to the championship game of the Lansing Invitational was in 1999 when the Lions placed fourth.
LHS met an identical fate Saturday, but this fourth-place finish came against a beefed up tournament field where nine of the 10 teams playing already had a few matches under their belts.
The lone team making its season debut: Lansing.
The Lions' three-week wait came to an end Saturday. As would be expected for their first outing of the year, they did plenty of things well and showed plenty of areas that could use improvement.
"At times (there was) great play," LHS coach Julie Slater said. "It's just the inconsistency. I have five new players on this team. It's just going to take a while to gel."
Throughout the day there were plenty of times when the Lions looked like a team that hadn't played yet. During all six matches there were stretches where communication broke down or players seemed unsure that a teammate would make a play.
"I did see a lot of (plays where) we're just not trusting each other yet, trusting that person's going to be back there and reaching out," Slater said. "They just need to learn to trust each other, and everybody has to do their job and depend on each other."
The Lions looked a bit uneasy at times during their opening match against Spring Hill. They dropped the first game 19-25 before coasting through the next two, 25-10 and 25-12, to win the match. After that they rolled past Louisburg (25-19, 23-25, 25-21), Basehor-Linwood (25-17, 25-15) and Sabetha (25-20, 25-21) and won their pool.
By winning their pool, the Lions earned a spot in the tournament semifinals against Shawnee Mission West, the No. 5-ranked team in Class 6A. The Vikings proved to be the toughest team LHS saw all day - they never played eventual champion Washburn Rural, the defending Class 6A state champion and current No. 3 team in 6A.
Anchored by kills from junior Jessie Delinger and senior Casey Welch, the Lions stayed close early and had game one tied at 3-3. The Vikings went on an 11-2 run, however, and eventually took the first game by a 25-15 score.
Game two provided the best fireworks of the entire tournament. Both Lansing and West worked themselves to exhaustion for almost every point. From the moment junior libero Riann Deere's diving dig soared over the net for a kill and notched the game at 3-3 until Casey Welch's thundering kill brought the score even at 14-all, the crowd watched intently. Powerful spikes were returned by miraculous digs. Players were all over the floor. Sweat was pouring and the crowd was roaring.
During that stretch the Lions at times looked disorganized. At times they looked crisp. At times they looked like they could've been playing for the state championship. Eventually, exhaustion set in and West pulled away for a 25-17 victory.
"We watched (West) warm up, and we knew they were good," Deere said. "We wanted to beat 'em, and when you want to beat a team so bad, you're going to play you're best. You're just more motivated. And you should be that motivated all day, but we were just totally motivated for Shawnee Mission West. We just wanted to beat 'em and just get in that championship game, so we played well against them.
"They were a better team, too. They were hitting at us. We like being hit at and all that stuff. We just knew we were going to have to play our 'A' game."
The Lions' rematch with Spring Hill in the consolation game didn't go nearly as well as the squads' first meeting, both because they were tired and because they were disappointed they didn't make it to the championship game. Spring Hill 25-22, 25-14.
Although Slater wasn't pleased with the way her squad played in its final match of the day, she said she was proud of how her players battled against West and how they played overall for their first time out this season.
"It was good for us," she said of the tough competition at the Lansing Invitational. "We had a good day. I still feel good about the day. We're 4-2, but we lost to a very good team, and then, you know, we had trouble rebounding from that loss and regrouping. They're kids, and that happens. It happens at every sport at every level."
Photo Gallery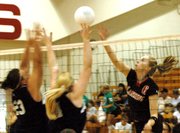 LHS volleyball fourth at home tourney
The Lansing High volleyball team opened its season Saturday at the Lansing Invitational. The Lions posted a 4-2 record and placed fourth overall at the 10-team tournament.
For the day, Welch led Lansing with 58 kills. Junior Kate Courtney had 36 kills. Senior Dayna Norwood had 25 kills and senior Lauren Griffen added 22 kills. Courtney had a team-high 20 blocks and Griffen added 18. Senior Dana Sanders paced the Lions with 77 assists and senior Whitney Lozenski added 54.
LHS won't have much time to dwell on its fourth-place finish. The Lions next play at 5 p.m. Tuesday at Spring Hill. They will face Spring Hill, Gardner-Edgerton and Bonner Springs.
Deere said Tuesday's rematch with Spring Hill would be a good opportunity for the Lions to prove that Saturday's consolation match was a fluke.
"We're going to come back strong and show them how we can really play," she said.