Flippo places first at Bonner Springs Invitational
Junior wins second straight race
Bonner Springs — With its top runners held out for the Rim Rock Farm Invitational on Saturday in Lawrence, the Lansing High cross country team's performance Wednesday at the Bonner Springs Invitational was all about the youth.
Lansing took 10 runners to race at Wyandotte County Park, and LHS coach Errol Logue said he couldn't be more pleased with the way they raced.
The Lions didn't have any entrants in the varsity girls' race, but junior Lori Flippo cruised the two-mile course in 15:20 and won the junior varsity race. It was her second consecutive first-place finish after taking third in the season opener at Tonganoxie.
"I'd like to see her run better times, but she competes well," Logue said. "In this race, there was kind of a rabbit and she went out and caught her. Then the rest of the field caught both of them. Then a girl from another school got right up with her and they ran together for about a half-mile before Lori just separated from her."
Flippo's early-season success hasn't been a surprise to Logue, who knew the transfer from Leavenworth High was a talented runner. He said he just wished transfer rules didn't prevent Flippo from running with the varsity squad.
"I'm sure it is (frustrating for her)," Logue said, "but she still has another year."
Photo Gallery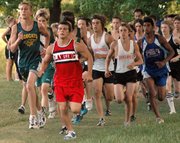 LHS cross country competes at Bonner Springs Invitational
The Lansing High cross country team competed Wednesday at the Bonner Springs Invitational at Wyandotte County Park. Here are scenes from the varsity boys' race.
Freshman Briana Zak placed 23rd in the JV race in 17:07, and sophomore Elizabeth Parks was 43rd in 18:59.
Flippo wasn't the only LHS runner to bring home a medal from Wednesday's meet. Freshman Matt McCurry earned an eighth-place medal in the JV boys' five-kilometer race, running the course in 20:38. Freshman Trenton Dorf was 22nd in 21:58.
"Matt got up there and ran a good race," Logue said, "and Dorf competes real well."
Freshman A.J. Glowacki placed 46th in 23:15 and freshman Michael Hornick placed 55th in 24:35.
In the varsity boys' race, senior Stewart Jones burst from the starting line and battled with the leader's pack for the first mile before allergies began bothering him and he fell back into the pack. That's when sophomore Jim Mayes caught him. Mayes eventually placed 33rd in 20:44, while Jones finished 35th in 21:03. Senior Jason Gibson placed 49th in 22:34.