Lions aim to bounce back against Santa Fe Trail
The Lansing High football team wasn't pleased with the mistakes that it made Friday night during its 28-21 loss to Mill Valley at home.
The Lions (1-1 overall, 1-1 Kaw Valley League) didn't like the fact that they allowed Jaguar tailback Justin Woods to rumble for 224 yards, including three touchdowns of 35 or more yards.
Still, LHS coach Bill Pekarek said the Lions weren't ready to throw in the towel. Instead, he said his squad would learn from the Mill Valley game.
"The pros got to play four exhibitions. We don't get that," Pekarek said. "Last week was a game that we should've learned a lot of things from. When we went in to watch film on Saturday, we were pointing out a lot of little things that we weren't doing, stuff like linebackers reading their cards, and other basic stuff."
Pekarek said he expected the mistakes to be corrected by 7 p.m. Friday when the Lions travel to Carbondale to play league foe Santa Fe Trail.
The Chargers (1-1, 1-1) may be the most improved team in the KVL this year. They have arguably their most talented team since legendary coach Bob Von Stein retired after the 2002 season. After going just 2-7 during each of the past two seasons, but they return 14 starters, including standout running backs Aaron Beatty and Alex Boss, and quarterback Brian Shively.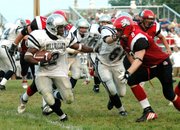 "They run the wing-T, so that's mostly trap, sweep, waggle, wing back reverse and a lot of misdirection stuff," Pekarek said. "It's somewhat like what we saw last week, but that's not the plays they beat us with last Friday. It was the toss plays that we shouldn't have had trouble with."
Lansing had trouble stopping the run during their first two games, but Pekarek said they had taken steps during practice to correct those mistakes.
The Lions also seemed to lose focus at times against Mill Valley, which was another area that Pekarek said he and his staff were in the process of fixing.
"They had to be really up to beat Tongie, and it's hard to play two weeks in a row being up," he said. "That might have been a reason we came out a little bit flat, but that's not an excuse. Our guys have to come out ready to play every time they step out in the field. They've got to be ready to play every week."
EXTRA POINT
After spending the first two weeks of the season ranked in the Metro Sports Super 25 football poll, Lansing fell out of the rankings this week. The Lions also lost their No. 4 ranking in the Kansas City Star small class poll.