Freshman football squad undefeated
Shawnee — When Bryan Shelley worked with the Lansing High freshman football team last year, he thought he saw the future of the LHS program.
Then the 2005 freshman class came along, and Shelley said he became certain the program would be in good shape for years to come.
What Shelly can't wait to do is combine the talent from the 2004 class - which went 8-1 last year and now helps compose the varsity and junior varsity squads - with the players from this year's undefeated freshman class.
"Here's the scary part," Shelly said. "Once we start developing these kids later on in the program and we start combining them with the older kids when they're seniors and juniors and sophomores, we've got a couple really good classes that we're building on. That's something special."
The freshman players share Shelley and coach Russ Baldwin's lofty goals, and they said they're willing to work hard to achieve that success.
"I often say that we're the start of a dynasty because we want to be better than what last year was," tailback Brenton Smith said. "We want to go 8-0 this year. We're hoping to keep that going, and once we get to varsity we want to get to state."
For now, Shelley is focused in helping the freshmen develop together as a cohesive unit. That's a job that's been made somewhat easier because the class is so athletically gifted and is willing to work hard.
Photo Gallery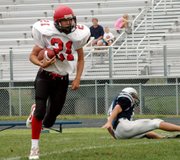 Freshman football pounds Mill Valley
The Lansing High freshman football team pounded Mill Valley, 50-24, on Monday afternoon at Mill Valley High School. The freshman Lions improved to 2-0 on the season.
"No. 1, they're a good group of kids," Shelley said. "This group, they listen. We're still not blocking things right, but they're athletic enough to get by. The biggest thing you need to understand is we've played two games and we haven't punted yet this year. I had to ask who our punter was."
After pounding Tonganoxie, 36-8, last week, the freshman team put its skills on display Monday afternoon at Mill Valley, where the Lions drilled the Jaguars, 50-24. Smith put LHS on the board in the opening minutes when he followed his 60-yard run on a toss play with a five-yard scoring dive. The lead grew to 14-0 when quarterback Cameron Trowbridge hit Eddie Silva in the flat for a 20-yard score.
Wes Jackson's interception late in the first quarter led to an eventual two-yard scoring run by Smith.The lead grew to 28-0 when Trowbridge ran the option and tucked the ball away for a 27-yard scoring run. Trowbridge and Smith each scored again in the second half, and Matt Robbins capped the victory with a 73-yard kickoff return for a touchdown.
"I feel like we can do anything on offense," Shelley said. "Some teams are going to be mad because it feels like we're running up the score. I'm calling vanilla plays and we're breaking them for 70 yards."
The reason the Lions were able to score with such ease was because of the solid blocking by offensive linemen Cody Rush, Nick Brungardt, Curtis Bolinger, Ryan Hays and Sean Gowdy. When they opened large holes, Smith, Trowbridge, Tyler Bodde and and Steve Johnson tore through them for positive yardage.
The true test for the freshman team will come at 4:30 p.m. today when the Lions travel to Holton.