Davis seizes opportunity as Lions' most experienced runner
When Griffin Davis was a freshman with the Lansing High cross country and track programs, LHS coach Errol Logue knew it was just a matter of time before the young runner became a standout.
Now a sophomore, Davis hasn't reached standout status yet, but he's on his way.
Davis has been the Lions' top runner in each of his first two meets - he placed 11th at the Tonganoxie Quadrangular and 14th at the Girard Invitational - and he already has knocked a big chunk off of his personal best five-kilometer time. After running a 20:26 in 2004, Davis trimmed his time down to 19:04 last week at Girard.
His goal for the end of the season is to run in the low 18's or crack into the 17-minute range.
"He's very cognizant of his time. That's something that's very important to him," Logue said. "Coach (Melanie) King built that into him during track, that you don't worry about people beating you. You get your time down and then you'll beat people. He uses that as a gauge for improvement, which I think is the best thing to do."
Davis wasn't a particularly fast distance runner as a freshman, but Logue said Davis eventually found his stride.
"He's a tall, gangly kid, and high school kids who are built that way don't get their strength as quickly," Logue said of the 6-foot-1 Davis. "But he's worked hard and improved himself physically. He's getting stronger. Now he's working on improving the mental aspects of running."
Specifically, Logue said Davis has been figuring out how to race, but he hasn't yet figured out how to push himself beyond the threshold of pain that separates good runners from great ones.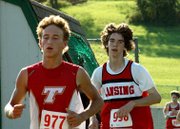 "He has to improve the mental aspects, but he's working at it," Logue said. "His hard work and commitment has made the difference."
Davis showed his commitment during the summer by running every Monday, Wednesday and Friday with his teammates.
"We would run seven or eight miles," Davis said. "I think that really helped out a bunch. Some of the freshmen did it too, and they're really doing good now."
Logue said Davis' summer running made him tougher, and he was looking for Davis to take another step forward at 10 a.m. Saturday when he competes at the Rim Rock Farm Invitational in Lawrence.
"This is a big step in his experience," Logue said. "I want him to get in there and I want him to show me some guts. It's going to be a tough course, and he'll see a lot of new faces, so I want him to approach it with the idea that he's going to run the best race that he can run. This is the next step in his improvement."
Headed to Lawrence
Davis won't be the lone Lansing runner headed to Rim Rock Farm. Seniors Erin Eustice and Ashley Mayes and junior Bianca Manago will represent the LHS girls on Saturday. Eustice and Manago ran the course last year at the Class 5A state meet.