The wait is over
Three-week delay doesn't slow Lansing volleyball during 7-2 start
The Lansing High varsity volleyball team wasn't pleased with its overall performance Saturday at the Lansing Invitational.
Sure, the Lions knew it would be tough to win the tournament considering defending Class 6A state champion Washburn Rural was there, but they expected to at least make the finals.
Shawnee Mission West, the fifth-ranked team in Class 6A, upended LHS in an emotional semifinal match, however, and a deflated Lansing squad later lost to Spring Hill, 25-22, 25-14, in the consolation game.
Fortunately for the Lions, they only had to wait three days to get revenge on the Broncos because the teams met again Tuesday evening at the Spring Hill Quadrangular.
"I think they really wanted that one bad," said Julie Slater, Lansing's 21st-year head coach. We won't see them again, so that'll be it. But they played us tough. They're a good competitive team, but the girls really wanted that one."
Lansing opened the quad by playing Spring Hill first. The Lions took game one, 25-20, before the Broncos rallied for a 25-20 victory in game two. LHS picked up the tempo in game three, however, and won 25-17.
Lansing later beat Gardner-Edgerton, 25-16, 16-25, 25-21, and Bonner Springs, 25-13, 25-10.
After looking disorganized at times on Saturday, the Lions (7-2) played more fluid volleyball on Tuesday. Slater said that was because she made a key adjustment to her rotation. Instead of using senior Dayna Norwood as a full-court player, she moved Norwood to the defensive libero position. Junior Riann Deere switched from libero to outside hitter.
"We made some adjustments in our lineup, and that really helped us," Slater said. "It worked very well. We still have to play a smoother game. We were still up and down. We have signs of brilliance, and then we get in a slump. Part of that is just the sport, but overall we did better."
Putting Norwood at libero, where she had a team-high 28 digs on Tuesday, contributed to an overall better passing performance by the Lions.
"She was thrilled about the move," Slater said of Norwood's reaction. "She feels like she's much more in her comfort zone because she's played the back row for her club team and she's being recruited for that position."
Photo Gallery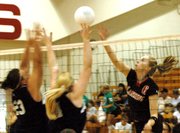 LHS volleyball fourth at home tourney
The Lansing High volleyball team opened its season Saturday at the Lansing Invitational. The Lions posted a 4-2 record and placed fourth overall at the 10-team tournament.
The move also allowed Deere to use her tremendous jumping ability to help the hitting game. Deere had eight kills. Senior Casey Welch had 38, junior Kate Courtney had 26 and senior Lauren Griffen added 11.
Senior Dana Sanders paced the offense with 50 assists and senior Whitney Lozenski added 28.
In addition to Welch's team-high kills, the 5-foot-10 outside hitter also had eight digs and three blocks.
"Casey had another outstanding match," Slater said. "She's just so solid. She really just keeps all of us grounded and focused."
The Lions next play at 5:30 p.m. Tuesday when they play host to Immaculata and Santa Fe Trail. It's the only time the squads will play this year, and LHS will try to avenge their loss to IMAC last year.
"That was the one black mark on our record last year," Slater said. "That was bad. We'd like to fix that. We look forward to IMAC always. It's a good friendly rivalry, and so we're looking forward to Tuesday. We have six seniors who are looking forward to playing IMAC for the last time of their career, and Santa Fe."