Giant water park slated for
KCK
Kansas City, Kan. — The loose translation of the word Schlitterbahn, in German, is slippery road. To Unified Government of Wyandotte County officials, the word means exciting.
It also means "Wyandotte County has solidified its place as a destination attraction," said Joe Reardon, mayor/CEO of Unified Government.
During a news conference Thursday, Reardon and other county officials announced that Schlitterbahn Vacation Village, a $300 million family water park, would become the next major tourist attraction to western Wyandotte County.
The water park has a tentative opening date of 2008.
It will be located on 300 acres near the Village West tourism district; the park boundaries include State Avenue to the south, Parallel to the north, Interstate 435 to the west and 94th Street to the east.
"Schlitterbahn Vacation Village is more than any other kind of water park," Reardon said. "It's much, much more."
The project will include a water park with miles of interconnected rivers, a marine park complete with saltwater lagoons, a mile-long river walk featuring family-oriented shops, restaurants and other entertainment venues under a retractable roof, as well as a 300-room hotel, cabins and resorts.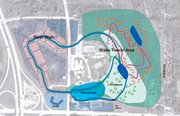 Reardon said the new development would add 3,000 new jobs and millions of dollars in revenue to Wyandotte County. The development will also serve as a complementary addition its neighbor, Village West, which already features some of the state's top tourist attractions in the Kansas Speedway, Cabela's and the Great Wolf Lodge.
County officials said representatives from Great Wolf Lodge, which also features a water park, have been consulted and voiced support for the Schlitterbahn project.
The site of the Schlitterbahn project has been home to the Wyandotte County Fair since 1954. Wyandotte County Fair Board treasurer Gary Grabel said his group had been a partner in negotiations with Schlitterbahn and also supported the new development.
"We want to tell you we are so excited about this project," Grabel said. He added, "before it's over, it will be substantially more than what the mayor suggested."
The fairground either will move to another site or the water park will be built around them, county officials said. Exact plans for the future of the fair are still being determined, officials added.
Reardon said county officials viewed protecting the fair as "absolutely critical" and assured those attending the press conference that "bigger and better" things were in store for the fair.
Schlitterbahn owns and operates three water park attractions: in New Braunfels, Galveston Island and South Padre Island in Texas. The flagship park in New Braunfels has been the top-attended water park in the United States since 1995, according to company officials.
Jeff Henry, whose family created the Schlitterbahn company, said it chose Kansas for its location. He cited the proposed location's proximity to Village West as a prime reason for locating to the state.
"There's a lot of reasons why : but the primary reason is the opportunity Kansas presents," Henry said.
"I can promise you when we're done it will be something you can be proud of," he added.