Lansing residents reach out to help victims
When Kirsten Simon watched television news coverage of Hurricane Katrina's aftermath, she, like many Americans, felt the need to do something.
"I saw the city was under water and saw the people that did survive," she said.
Kirsten channeled her charitable urge and combined it with one of her favorite leisure activities - riding her scooter - and came up with an original fund-raising event: a "Scooterthon."
So Saturday afternoon, 10 children in her neighborhood gathered, having collected pledges from family members on a per-lap basis, to ride laps on their scooters and bicycles around the long cul-de-sac that is Hillbrook Drive.
The Hillbrook Drive children weren't the only ones in Lansing doing their part to raise money or collect goods for relief efforts.
Members of the Lansing High School Future Business Leaders of America sold water from a booth at Riverfest; a drive continues at LHSÂ, to collect items to send to hurricane evacuees now staying in Natchitoches, La.; two Middle School students organized collections during a football game; a group at LHS is sponsoring a poker tournament to benefit hurricane victims; Lansing Middle School is having a dance to raise funds for a relief organization.
Scooterthon
For Kirsten's Scooterthon, pylons on loan from the Lansing Police Department stretched for the equivalent of about two city blocks down the middle of the street, making each lap around the course approximately a quarter of a mile.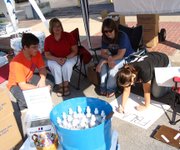 The event raised $740, which Kirsten's mother, Lynnette Simon, said would be sent to the Red Cross in the name of the children who participated.
Because it was so hot Saturday, the young bicycle and scooter riders stopped frequently for drinks of cold water from a cooler set out for the event. After everyone's laps had been finished, the riders had a basketball shoot-out to raise additional money, with five shots for $1, and a water balloon toss, $2 a bag, which turned into a water balloon fight.
Many of the children who participated might have rode as far that evening for free.
"We come out every night and ride," Kirsten said of her neighborhood friends and herself. Kirsten rode 40 laps on her scooter Saturday.
Six-year-old Carson Smith started the Scooterthon with what could be considered for his age an insanely ambitious goal: to scoot 100 laps. That would have come to about 22 miles. But because Saturday afternoon in Lansing was so hot, and perhaps because Carson was not content to loll about the course at a leisurely pace, he quit after about 24 laps.
"Water sure tasted good after that," Carson said later.
Those who pledged for Carson didn't hold his impressive performance against him, and the Lansing Elementary School first-grader still brought in $200 worth of donations from his parents, Shari and John Smith, and his grandmother, Jeanne Knapp.
Water sales
No matter the product, it's hard to compete with free.
Members of the Lansing High School Future Business Leaders of America, with help from a Leavenworth business, tried to do their part this weekend to help victims of hurricane Katrina by selling water bottles for donations that would go to relief organizations.
The bottles were donated by First Command Financial Planning, 1100 N. Fourth St., Leavenworth, and sold Saturday morning at a stall manned by three FBLA members and a sponsor on Delaware Street during Leavenworth's annual Riverfest.
The snag was that the well-meaning water bottle vendors - Ashley Kings, Bud Kings, Neva Kelloff and sponsor Beth Kelloff, financial adviser and mother of Neva - got an unlucky stall assignment: across from and next to the stalls for two churches - Wallula Christian Church of Lansing and Living Water Baptist Church of Leavenworth - both giving out free bottles of water Saturday.
"It just happens that we're in the wrong spot," Neva Kelloff said. "Ours is for a good cause."
At 10 a.m., after an hour of selling, by which time the sun had begun to broil the street, the group had sold just two 16.9-ounce bottles. The second dollar put in the jar for donations, right next to the bucket of water bottles set in ice, was donated by Eric Drews, Leavenworth.
Drews said it wasn't hard for him to sympathize with victims of the hurricane.
"My daughter lived in Navarre, Florida, and she went to Jacksonville for two days," Drews said.
After a while, Beth Kelloff said, she noticed that the people at the Living Water stall were telling thirsty festival-goers, "Take a free bottle, but donate" next door at the FBLA stall.
While waiting for customers, Ashley Kings drew up posterboard signs for the stall, including an "I donated" sign for people to write their names on.
The signatures eventually included, among others, that of a man from Sri Lanka who was visiting the area.
"It's neat," Beth Kelloff said, "because the sign will go down there on the truck with the supplies."
She was referring to a donation drive sponsored by the Kays and Kayettes at LHS that also includes clothing and supplies headed by Tracy Andrews, LHS math teacher, to take to Natchitoches, La., where Andrews' sister Mardy Williams lives.
The FBLA group collected $140 for their effort Saturday.
Other efforts
¢ Lansing Middle School will sponsor a benefit dance to raise money for victims of hurricane Katrina. The dance will be from 7 p.m. to 9 p.m. Friday, Sept. 16, in the LMS commons. Cost is $5, but the school will accept donations in addition to the cover charge. LMS Principal Kerry Brungardt said the Pep Club would donate drinks and snacks, which will be sold for $1, and a DJ had agreed to work for free, so all of the money raised will go to hurricane victims through Heart to Heart International, an Olathe-based humanitarian organization. "My hope is to make a couple thousand to send to them, and I think we can do that," Brungardt said.
¢ Two Lansing Middle School students organized a collection for hurricane Katrina victims at last week's eighth-grade home football game. Eighth-grader Preston Rooker said he was inspired to help after watching CNN coverage of the hurricane's aftermath.
"I know if I was there, I'd like to know someone was doing this for me," he said.
Rooker enlisted his friend, eighth-grader Richie O'Donnell, to help him post flyers at the school. They collected spare change amounting to $69.77 at the Sept. 6 football game. The money will go to Heart to Heart International.
¢ The Kays at Lansing High will sponsor a Texas Hold-'em poker tournament for LHS students and staff, with proceeds earmarked for hurricane relief. The tournament, which is expected to last four hours, will begin at noon in the LHS commons area. The entry fee is $5, plus the Kays also will accept donations.