Lansing utility workers join relief effort near New Orleans
About 5 p.m. Thursday, Rob Kane unhooked a large, black barbeque grill from the back of his pickup truck and pulled the grill toward the concession stand at Lansing High School's Frank Graham Field.
It was part of Kane's pre-game ritual the day before every Friday night home football game, only this time it was different. Kane was leaving the grill, but he wouldn't be back the next evening to fire it up and cook burgers and hot dogs before the Lansing-Mill Valley game like he'd done for more than four seasons.
Instead, Kane was leaving at 6:30 a.m. Friday for New Orleans to assist in the relief efforts in the aftermath of Hurricane Katrina. He was dropping off the grill and turning over the cooking duties to his sidekick, Mike Piper.
"Hopefully I've got a decent cook that's gonna take care of it tomorrow night so nobody gets hurt there," Kane said with a chuckle. "I haven't missed a football game in four years and one game. Now I'm gonna miss my first, but I can't think of a better reason to miss it."
Kane's employer, Westar Energy, has seven crews from Kansas currently aiding in the relief efforts in the areas damaged by the hurricane. Kane and three other men - Ryan Thompson of Lansing, John Wagner of Easton and Ed Scott of Hiawatha - will be replacing one of those crews.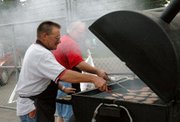 "Westar's kind of figured out what they can give up and what's safe to get by with," Kane said. "We've already got seven crews down there now. We're actually going down as a second wave. They're coming back on the bus that's taking us down there."
Kane said his crew would work in areas on the outer edge of New Orleans that didn't flood but that sustained the most severe wind damage of any location during the storm.
"From what I understand, there's not many structures still standing," he said.
The crew's primary job will be building main distribution lines that are used to power most of the city's infrastructure. The main goal will be restoring power to area businesses, generating stations, water pumps, police stations and fire stations.
Kane said he had tried to prepare himself for what he would see upon arriving in New Orleans, but he said it was virtually impossible to do.
"I can't even imagine what this is gonna look like," he said. "I was in Haysville (in 1999) when that tornado hit, and the guys tell me that you take that and magnify it by 1,000 and that's New Orleans."
Kane said he was concerned about the number of serious diseases that have spread in the area because of standing water, but he said he and his crewmates had been vaccinated for hepatitis and e-coli and had received tetanus shots before leaving.
Kane said his greatest concern was about the time he'd be away from his family. On Saturday his oldest daughter, Jessica, played her first college softball game at Kansas City Kansas Community College, and he had to miss it. Kane said he'd miss spending time with his wife, children and grandson while gone, but he said his family understood it was important that he help in the relief effort.
"I'm giving up some stuff to go do this, but it's something you need to do," he said. "If everyone's been watching on television, you've gotta know that this is a really nasty situation. This is something that's happened to the United States that's never happened before. It's a time when people really need to get together and do something about it. This is my own little way."
As for his return to the barbecue grill for the LHS pregame festivities, "I should be back in time for the next home game, so I'll be all right."
The Lions' next home game will be the Homecoming showdown with Immaculata on Oct. 7.