Lions 'flip the switch,' knock off
SFT
Defense holds Chargers to 19 yards in second half
Carbondale — It took the Lansing High football team until Week Three last year to find its groove and go on a hot streak.
Perhaps the Lions are in store for a repeat performance in 2005.
After winning its opener against Tonganoxie, Lansing looked flat last week against Mill Valley. Friday night against an upstart Santa Fe Trail squad, the Lions survived a first half where they seemed disoriented at times and then used a mammoth second-half effort to pull away from the Chargers, 27-13, at SFT.
"I think our guys stepped it up in that second half and played 10 times better," LHS coach Bill Pekarek said. "If we can keep that kind of feeling, and if we can play with that kind of enthusiasm and that kind of effort in all phases, and we can do it in the first quarter, then we're going to be tough to beat."
From the first play of the game - a kickoff return where return man Jeff Collins was blinded by the sun and couldn't see the wedge develop - to gaining just three yards of offense on the opening drive, to allowing the Chargers to score on a 22-yard touchdown run on their first possession, to surrendering a 77-yard kickoff return for a touchdown, very little went Lansing's way in the first half.
Ironically, though, as much as the Lions struggled to build momentum during the first two quarters, they still managed to take a 14-13 lead into halftime.
Photo Gallery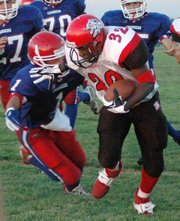 Lions surge past Santa Fe
The Lansing High football team used a big second-half effort from its defense to pull away from Santa Fe Trail, 27-13, on Friday night at SFT. The Lions' victory was their first on the road this season. They improved to 2-1 with the win.
Trail senior running back Aaron Beatty's 22-yard touchdown run gave the Chargers a 7-0 lead just 4:30 into the game, but LHS responded two possessions later when senior Steve Lillard blocked a punt. That gave the Lions the ball on the Santa Fe 20-yard-line. Three straight runs by Kyle Grape and a dive by Michael Griffin set up Matt Warner's six-yard quarterback sneak for a touchdown.
Chargers junior Alex Boss returned the ensuing kickoff for a touchdown, but kicker Shawn Conklin's extra point attempt clanked off the right upright, leaving the score at 13-7.
Lansing (2-1 overall, 2-1 Kaw Valley League) almost one-upped Trail on the ensuing kickoff when Griffin dropped the ball, picked it up, broke three tackles and streaked 91 yards into the end zone. The run was called back, however, because a Lansing player was flagged for clipping 10 yards behind Griffin when he already was in the clear.
Despite the penalty - which gave LHS the ball at the SFT 40 - the Lions settled down and rattled off an eight-play drive that was capped by senior Lance Fink's one-yard plunge up the middle. Ryan Robbins' extra point gave the Lions a 14-13 lead with 9:13 left in the second quarter.
Trail (1-2, 1-2) proceeded to pound the ball right up the middle on 11 of its 14 plays on the drive that followed. During that time, the Chargers marched from their own six-yard-line to the Lansing 18. Facing third and seven, they attempted to pass. Robbins burst up the middle, though, sacked quarterback Brian Shively, and forced a fumble. Senior Jason Bowman recovered it for Lansing and thwarted a major threat just before halftime.
Although the Lions weren't pleased with their first-half effort, they were happy to take a lead into halftime. Still, they knew they needed to make some serious changes if they were going to hold on for the win. A big change had to be improved tackling.
"They run the wing-T. It's a misdirection thing, and it was kind of hard to follow at first," Fink said. "As soon as we went to the locker room at halftime, a lot of us, including me, said 'flip the switch.' Coach P said to turn it up. We just flipped the switch and we came out in the second half and got it done."
Lansing sent a statement during the first possession of the third quarter. It forced the Chargers into a quick three-and-out that was sparked by tackles from Robbins and Logan Ryan. Trail went three-and-out on its next possession, too, as Fink recorded a tackle for a four-yard loss.
"It seemed like we were just timid (in the first half)," Kohl said. "When we were in the locker room we said we needed to wrap up, and in the second half we just woke up."
The Lions' next drive appeared to be the back-breaker before a penalty cut it short. They got the ball at midfield and drove all the way to the SFT two-yard-line when Warner connected with tight end David Kern on a 12-yard pass, but a holding penalty turned a first and goal situation into a second and 25 at the 30. The drive eventually stalled, but another defensive stand - this one sparked by tackles from Robbins, Ryan, Kern and Kyle Miller - ensured the Lions would keep the momentum.
This time, Lansing found the end zone. It used a 10-play drive consisting of all running plays to march 66 yards in five minutes. Fink, Grape and Warner took turns running the ball, but it was Fink who did the most damage. His three carries covered 30 yards before Warner covered the final five when he ran the option and tucked the ball away for a touchdown. The extra point failed, though, and LHS led 20-13.
The one-touchdown lead wasn't safe yet, but the Lansing defense had one final major stop left in it. Robbins burst through the line and sacked the SFT quarterback for a seven-yard loss on first down. After two more plays, the Chargers punted again. This time it was blocked by Kohl. Seventy-seven seconds later, LHS was back in the end zone as Fink broke three tackles on his way to a 20-yard touchdown run.
Leading 27-13, the Lions' defense forced one final three-and-out that sealed the victory. After a first half where Trail ran all over the Lions, the Chargers were held to just 19 yards of total offense in the second half.
"Our guys showed some enthusiasm there in the second half," Pekarek said. "We just looked different, didn't we? We just need to look that way at the very beginning of the game."
The Lions will try to run their winning streak to two games at 7 p.m. Friday when they travel to Bonner Springs for another KVL showdown.
NOTES
- Lance Fink rushed 14 times for 109 yards and two touchdowns.
- Matt Warner rushed 11 times for 61 yards and two touchdowns.
- Kyle Grape had 14 carries for 39 yards.
- Santa Fe Trail had 207 yards of total offense. Of those yards, 188 came in the first half.
- Lansing gained 248 yards of total offense. Of those yards, 212 came on the ground.
- Fink led LHS with 13 total tackles.
- Joe Kohl was second on the team with 12 tackles.
- David Kern, Ryan Robbins and Kyle Miller all had nine tackles.
- Steve Lillard had seven tackles and a blocked punt.