Davis, Manago pace
LHS

at Rim Rock
Lawrence — A smile broke out across Griffin Davis' face a few minutes after finishing his 5-kilometer race Saturday at the Rim Rock Farm Invitational.
"Oh man," said Davis, still struggling for breath. "That was tough."
Davis finished his race in 20:07, more than a minute slower than his best 5K time of the season (19:04 last week at Girard), and finished in the middle of the pack, but Davis wasn't particularly disappointed. After all, he just survived arguably the most difficult cross country course in the state and the home course of the Class 5A and 6A state meets.
"I definitely think I need to improve on pushing myself harder," Davis said. "I'm pretty sure, now that I'm done, that I should have pushed myself harder after the last hill and I might have been able to knock a few seconds off my time. My next meet I'll try to push myself even harder."
Davis pushed himself from the beginning as he found a spot among the top 40 and held his position for most of the race. The final hill - a steep, slippery incline known as 'suicide hill' that's a half-mile before the finish - drained most of his remaining strength, though.
Photo Gallery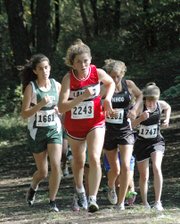 Lions compete at Rim Rock Invitational
The Lansing High cross country team competed Saturday at the Rim Rock Farm Invitational in Lawrence. Here are scenes from the races.
LHS coach Errol Logue said he wasn't concerned with Davis' time on Saturday. The point of bringing the sophomore to Rim Rock was to give him experience and to see him show some guts. That, Logue said, it exactly what Davis did.
"He just showed me a good race," Logue said. "We didn't bring him up here to win the thing. I told him, 'this is your first time in big-time cross country,' and he ran well. I told him before the race I wanted him to find a bunch and stay with them. I thought he competed and ran well. I'm pleased with him.
Logue was less pleased with the results from the girls' race. LHS took three runners - junior Bianca Manago and seniors Erin Eustice and Ashley Mayes - to Rim Rock, but the trio didn't run as well as they'd hoped to in the rare 4-kilometer race.
"We're disappointed," Logue said. "We just didn't run well. This race is a lot tougher than what it was two or three years ago, but we've just got to run better."
Manago was Lansing's top finisher. She covered the course in 17:50 and placed 26th - one spot out of medal contention. Manago positioned herself among the top 30 from the beginning of the race and hung on throughout, but her asthma flared up on her during the final mile of the race and prevented her from making a kick down the home stretch.
"I just felt like a monkey jumped on my back," Manago said of the asthma. "I just felt it hit and I couldn't do much about it."
Manago said the longer distance didn't bother her, though. In fact, she said she'd prefer to run the longer distances.
"Quite honestly, I would prefer us running a 10K," she said. "I would love to have us running (a longer distance) because this is still like a sprint to me, except it's a longer sprint."
Mayes placed 63rd in 19:25, and Eustice - battling sinus congestion - was 82nd in 20:07. Logue praised Eustice's determination to finish the race despite having trouble breathing because of her sinuses.
For more on LHS cross country, pick up the Sept. 22 edition of The Current.