Schultz places first at Hayden Invitational
Probst third at No. 1 singles
Topeka — Heidi Schultz' feet burned as she walked off the tennis court at Hayden High School following her No. 2 singles semifinal victory against Atchison's Ashley Van Petten on Saturday at the Hayden Invitational.
Schultz, a Lansing High junior, wanted to sit down and ice her feet that had grown sore in her old sneakers. The running and long volleys were taking their toll.
"You've got one more," LHS coach Rachel Elkins told Schultz, a smile on the first-year coach's face. "You're playing for the championship."
An aching Schultz responded with a pained, "Are you serious?"
Elkins wasn't joking. Schultz had one more to go. After a quick rest and a brief ice-bag application to her feet, Schultz returned to the court. She seemed to block out the pain as she delivered a focused, patient effort in disposing of Hayden's Erin Kraus, 8-3, to capture the singles title.
"I knew that her feet were hurting, but she's able to get into that zone that I talk about, that ideal performance state," Elkins said of Schultz. "She has the ability to do that, and you saw it. Her feet were hurting, and tennis is a lot of feet, but she got it done."
Schultz cruised through her first to matches of pool play as she beat Perry-Lecompton's Peggy Reumond, 8-5, and Atchison's Courtney Grandpre, 8-4. She then lost to Hayden's Erin Kraus, 8-3, but advanced into the bracket-play semifinals. Once there, she cruised past Van Petten, 8-3, before gaining revenge against Kraus in the final.
The victory was Schultz' second top-three finish in two meets this season. She placed third on Wednesday at the Baldwin Invitational.
Photo Gallery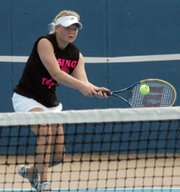 Schultz leads Lions at Hayden
The Lansing High tennis team competed Saturday at the Hayden Invitational in Topeka. Junior Heidi Schultz paced the Lions with a first-place finish at No. 2 singles. Here are scenes from the tournament.
If Schultz' ailing feet slowed her down at all in her championship match, she sure didn't make it noticeable. Her face remained stoic throughout the match, and her shots all were well-placed.
"After I iced it, that really helped and I just forgot about it," she said. "I was playing the girl, and I was just completely into the game. I was focused."
Schultz wasn't the only Lion to turn in a solid performance in Lansing's second tournament of the season. Junior Kersten Probst, making her debut at No. 1 singles, earned a third-place finish. She beat Perry's Amanda Quattlebaum (8-1) and Van Petten (8-2) in pool play before falling to eventual No. 1 singles champ Alex O'Neil of Hayden, 8-0. Then, in her semifinal match she fell to Wamego's Becca Law, 8-1, before beating Sabetha's Laura Gurton, 8-3, in the consolation match.
"I thought Kersten had a great outing also," Elkins said. "It was her debut in singles. She had some tough competition with the Topeka Hayden girl and the Wamego girl, but I think they are both quality tennis players. She still had some good volleys with them, so it was a good showing."
At No. 1 doubles, Rachel Darrow and Lindsay Parks went 1-2, but at No. 2 doubles, Bethanie Hill and Jaclyn Gann went 2-1 in pool play and eventually placed fourth overall.
The Lions next compete at 8:30 a.m. Saturday at De Soto.
For more on Lansing tennis, pick up the Sept. 22 edition of The Current.