Lions upend Braves again
LHS

nets fourth shutout in six games
The first time Lansing High and Bonner Springs High met on the soccer field this season, the Lions surged to a two-goal lead before Bonner rallied and eventually forced overtime.
Round two came Monday evening at Lansing, and this time the Lions also surged to a two-goal lead. Unlike the first meeting - which resulted in a 5-4 LHS victory - there was no Bonner rally this time. The Lions held their lead and withstood a late charge by the Braves before hanging on for a 2-0 victory.
"The first game (against Bonner) was our first game. We were young and there were a lot of things we didn't have sorted out," LHS coach Randy Brown said. "We're experienced now, so when we have a lead we're able to do the things we have to do to keep it and keep them on their heels and keep them frustrated. That was the key to the game."
Just like in the first meeting, Lansing asserted control quickly as seniors Brad Mock, Mike Bayless and Ty Thackston made hard runs at the goal and fired shots that were just off-target. In the eighth minute, however, freshman midfielder Clayton Hall gave LHS a 1-0 lead when he faked out two Braves defenders and fired a left-footed strike from just beyond the 18-yard box sailed past the Bonner keeper and into the far corner of the net.
Photo Gallery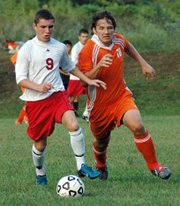 Lions knock off Bonner again
The Lansing High soccer team shut out Bonner Springs, 2-0, on Monday night at LMS. With the victory, the Lions improved to 5-1. Here are scenes from the game.
Barely two minutes later Bayless stretched the Lansing lead to 2-0 when he scored a goal that was nearly identical to Hall's strike.
The Lions (5-1 overall, 4-1 Kaw Valley League) had numerous chances to add to their lead before halftime as Mock, Thackston, Bayless, junior Andy Dick and senior Nolan Bohannon unleashed shots, but none of them found the net.
Although the Lions had a comfortable lead, they knew it wasn't safe with Bonner Springs senior forward Jon Baxter on the prowl.
Baxter - who earlier in the week told reporters "I can't be stopped. I can only be slowed down" following a 6-1 whipping of Mill Valley - was slowed to just one shot in the first half. Baxter was limited to two shots in the second half, and LHS outshot Bonner 28-9 for the game.
"The team we were playing today, they play the through-ball well normally," Brown said. "That Baxter guy has been scoring hat tricks in every game he plays, and we knew we had to have a big defensive effort."
The defensive effort got the job done as junior goalkeeper Alex Burton made four saves and earned his fourth shutout of the season. Defenders Steve Parker, Josh Robinson and Nate Markovetz also played major roles in containing Baxter and thwarting other Bonner scoring opportunities.
"There were just so many folks who were able to step up and we played as a team," Brown said. "It was a total team effort."
There were a few scary moments for the Lions during the second half as Mock and Thackston each left the game with injuries. Neither appeared to be serious, however, and Brown said he expected both to be back Wednesday for Lansing's 4 p.m. game against Immaculata at the University of St. Mary.
By sweeping the season series from Bonner, Lansing earned bragging rights on the soccer field, but the Lions also earned a greater distinction: they're the only team to beat Bonner so far this season. The Braves are 5-2, with both losses coming to LHS. Among their five victories is a 6-1 whipping of Mill Valley last week.
JV LIONS SURVIVE, IMPROVE TO 6-0
Photo Gallery
JV soccer improves to 6-0
The Lansing High junior varsity soccer team knocked off Bonner Springs, 1-0, on Monday at LMS. Here are scenes from the game.
The Lansing High junior varsity boys soccer team maintained its perfect record Monday, but it didn't come easily.
The Lions fended off a relentless effort from Bonner Springs before hanging on for a 1-0 victory.
Sophomore Nick Stevenson buried the game-winner just eight minutes into the game off an assist from sophomore Ben Hancock. After that, the Lions hung on for dear life.
Unlike its previous five outings this year, LHS struggled to create shots on Monday. Down the stretch the Braves dominated but were unable to find the net as Lansing junior goalkeeper Adam New made three late saves to preserve the victory.
The JV Lions next play at 5:30 p.m. Wednesday against Immaculata at the University of St. Mary.