Lions rip Raiders
Varsity falls to
SFT

in early game;

JV

wins two
There was no question the Lansing High volleyball team wanted to beat rival Immaculata on Tuesday night, but perhaps the Lions wanted to knock off the Raiders too bad.
It seemed the Lions' focus may have focused too much on IMAC and not enough on their first opponent, Santa Fe Trail, on Tuesday night at LHS. The Lions cruised to a 25-12 victory in game one against the Chargers, but then lost their focus and had numerous communication errors as they dropped games two and three, 23-25 and 18-25, in Kaw Valley League action.
"I think some people were thinking about (Immaculata) early, and then we lost focus," senior outside hitter Casey Welch said, explaining why the Lions struggled mightily during their final two games against Trail.
It's a reasonable explanation, too, considering Lansing played its best game of the season in game one. The Lions erupted to a 10-3 lead and never looked back. At one point Trail rallied to within 14-8, but Riann Deere smashed two kills, Keele McLaurin fired an ace and Kate Courtney had a solo block. Another kill by Courtney and one more by Deere put Lansing ahead 20-8. At that point, the game was essentially over.
At that time it also seemed like the match with Trail would be a quick one. The Lions were clicking on all cylinders. They looked smooth and communication was good.
Photo Gallery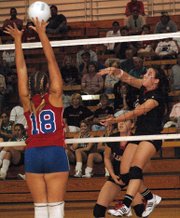 Lions fall to Santa Fe Trail, upend Immaculata
The Lansing High volleyball team lost to Santa Fe Trail and then rebounded to beat Immaculata on Tuesday night at LHS. Here are scenes from the matches.
"On that first game against Santa Fe, that was flawless. That was the best game that we've played together all year," McLaurin said. "We've just got to pull together and make it work."
After the flawless game, things went haywire. LHS raced to an 8-4 lead in game two, but the Chargers picked their way back and tied the game at 12-all. The score was tied again at 14-all and 16-all before Trail took the lead for good.
The Lions didn't have an answer in game three, either. They fell behind 5-1 and then rallied to tie the game at 10-all, but after that it was all Santa Fe as the Lions made poor passes and struggled to return serves.
"It's just great to play a team like (Santa Fe) and be in those kind of situations because that just prepares you and helps you to make better decisions," LHS coach Julie Slater said, explaining what her team could learn from the loss to Santa Fe.
After an hour-long break, the Lions refocused and finally got their shot at Immaculata. This time there wasn't any drama. There wasn't any concern about an upset like what happened last year when the Raiders pulled off a shocker against the Lions at IMAC. The match never was in question as LHS rolled to a 25-14, 25-11 victory.
"Oh, we wanted it bad," Welch said of the victory against Immaculata. "We wanted this one more than a lot of things. And with it being senior year, you have to beat them senior year."
Courtney and Dana Sanders set the tone immediately as they combined for a block to give LHS a 1-0 lead in game one. Two kills by Welch pressed the lead to 5-1. IMAC rallied and took a 10-9 lead, but Lansing had an authoritative answer. Deere smashed a kill. Sanders fired an ace. Welch blasted a kill down the line. Courtney and Jessie Delinger had kills. Then a solo block from Courtney and an ace by McLaurin. Two more kills from Welch put Lansing ahead 18-11 and the game never again was in question.
Game two turned into another rout. After the Raiders took a 3-1 lead, Lansing rattled off 10 unanswered points, including two blocks and two kills by Courtney. Dellinger pounded a kill that gave the Lions a 12-5 lead. Then Welch scored six of Lansing's next seven points as she had four kills and two aces. Lauren Griffen added two kills and an ace down the stretch, and then a final kill by Delinger closed out the match.
Delinger may have had the final kill, but Slater said the junior hitter/middle blocker made numerous contributions throughout the match that stood out. The main thing was her timely kills.
"I thought Jessie Delinger had some awesome hits tonight and I was really pleased with her," Slater said of Delinger's seven-kill, three-block effort. "She had some blocks. She did a nice job.
"Her hits and blocks were impressive because they were just at critical times of the game (and) she came through. She did a nice job for us."
Welch led Lansing with 21 kills and six digs in the two matches. Courtney added 11 kills and eight blocks. Deere and Delinger had seven kills apiece and Griffen added six kills. Dayna Norwood led the defensive effort with seven digs. Sanders paced the Lions with 31 assists and Whitney Lozenski added 19 assists.
The Lions (8-3) next play at 5 p.m. Thursday at Bonner Springs against Bonner, Pleasant Ridge and Bishop Ward. Then they'll head to the Louisburg Tournament at 9 a.m. Saturday.
JV WINS TWO
Photo Gallery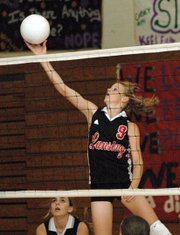 JV volleyball sweeps Santa Fe Trail, IMAC
The Lansing High junior varsity volleyball team picked up a pair of wins Tuesday night at home against Santa Fe Trail and Immaculata. With the wins, the Lions improved to 10-3 on the season.
After placing second on Saturday at the Louisburg Tournament, the Lansing High junior varsity volleyball team picked up two more victories on its home court.
The Lions (10-3) beat Santa Fe Trail, 25-19, 25-21, and then cruised past Immaculata, 25-8, 25-11.
Both games against SFT were tough, but the Lions maintained their composure throughout the match. Both teams traded points throughout game one until LHS nudged ahead 10-9. Then Lansing went on an 8-2 run to blow the game open. Sara Logan's ace sealed the LHS victory.
Lansing opened game two on a 5-0 run that was sparked by a service ace from Kristen Jensen and a Logan kill. Trail rallied to within 6-4, but a Charger hitting error and three aces in a row from Brittney Lang put the Lions ahead 10-5. SFT roared back and took a 16-13 lead, but the Lions toughened up and answered with an 8-1 run that was capped by an ace from Katie Nietzke and a kill from Elizabeth Cristiano. Morgan Chiles added a kill down the stretch and Lang had two more aces to help seal the victory.
Against IMAC, the match never was in question. Jensen opened game one with ace. Then Lang and Erin Griffen added a pair of kills each and Lansing surged to a 6-1 lead. Logan and Nietzke each fired two aces, and Nietzke and Jensen had two kills apiece as LHS pulled away for an easy victory in game one.
Game two was equally lopsided as the Lions burst to a 6-0 lead and never looked back. Jensen pounded four kills in the second game, Nietzke added two and Katie Smith fired an ace as LHS won the match easily.
The JV Lions next play at 5 p.m. Thursday at home against Bonner Springs, Bishop Ward and Pleasant Ridge.