Burton protects the net
Junior goalkeeper elevates game, delivers shutouts
From the moment the Lansing High boys soccer team first took to the field this fall, it was clear they were an improved squad.
The Lions (5-1) were faster and fitter than their opponents, and it was evident as they outscored their foes 30-6 so far this year. What has gone largely unnoticed behind all of the offense, however, has been the steady play of Lansing's last line of defense, junior goalkeeper Alex Burton.
After allowing four goals in the season-opening 5-4 overtime victory at Bonner Springs, Burton has posted three shutouts in the last five games.
"Before the season I did not expect us to have a lot of shutouts," LHS coach Randy Brown said. "Not because Alex isn't a good goalkeeper, but because we're playing three back and taking a little bit more risk on defense. But the folks have adapted well and Alex is picking everything up and doing a good job being a leader back there."
It's easy to understand why Burton's play might pass under the radar. After all, defenders Theo Daniels, Steve Parker, Nate Markovetz and Josh Robinson have made sure Burton hasn't had to face many shots.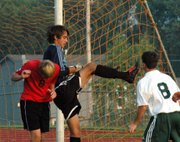 "I've really gotten comfortable with my defense. They're great," Burton said after the Lions defeated Bonner Springs, 2-0, on Tuesday night. "Tonight I made four saves. That's really great when the defense is stopping them and I only have to clean up one or two."
Burton has had to make the occasional tough save, but most of his opponents' offensive attacks have been thwarted before a shot ever was fired. In a way, that's a credit to Burton as well because it's his responsibility to make sure his teammates are in position to make plays at all times.
His muscles might not be very sore after most games, but his vocal chords certainly are. Throughout the course of an 80-minute game, Burton's voice can be heard constantly as he shouts out instructions to his teammates.
"Get back! Get BAAAAACK!"
"Well done, Theo. Great play."
"Push up!"
"Get in the box!"
"Mark up! Who's got 20?"
Brown said he expected his goalkeeper to be loud because he's the only player in the game who can see the entire field all at once. That's why it's his job to be the team's best communicator.
"Alex is back there and he's orchestrating," Brown said. "There are 11 guys out there that are making things happen, but he is a key part of this."
Burton said being vocal came naturally because of his vast experience playing soccer with his club team.
"With my club, I have to talk like that or else I'll get pulled," he said.
There were times at LHS in 2004 when Burton got pulled, even though he was the Lions' usual starting keeper. He said that was because he lacked confidence last season.
Burton underwent a confidence boom during the summer, though. He attended a few goalkeeping camps and played regularly with his club team. He also trained hard with his Lansing teammates in preparation of this season.
"A lot of us got prepared really, really well," he said. "We had a lot of speed and agility training. Almost all of us were playing in the offseason. We knew this was going to be our year to do something, and we had all the right guys that were doing all the right things."
Now, with three shutouts under his belt and the season less than halfway through, Burton said he is full of confidence and has high expectations for the rest of the season. He said he is aiming for a shutout every time out.
"That's definitely my goal," he said. "I don't want to be overconfident because I know it's not going to happen every time. If a goal does go in, I just have to reset and tell myself I'll get the next one. I have to be confident like that."