Lions vow not to overlook dangerous Bonner Springs
On paper, it seems easy to believe that the Lansing High football team could overlook Bonner Springs heading into the teams' Kaw Valley League showdown at 7 p.m. Friday.
That's not the case, however.
Sure, the Lions (2-1 overall, 2-1 KVL) beat Bonner, 36-19, last year. Sure, the Braves went just 1-8 in 2004 and are 1-2 so far this season. Of course LHS is favored to win this year's meeting.
Still, the Lions aren't foolish. They know that all of that "on paper" stuff is hogwash and that what matters is showing up on Friday night ready to play.
"I think it's going to be a good game," said junior linebacker Joe Kohl. "But we've got to go into practice and work as hard as we can and then play as hard as we can on Friday. We need to practice hard all week and then go out there and leave it all on the field."
The reason Kohl believes it could be a good game is because the Braves have played better football this season. Their record doesn't necessarily show it, but the scoreboard does. They dropped a 17-14 decision to Basehor-Linwood in the season-opener and then held off Piper's air attack for a 26-21 victory. Last week the Braves lost to Gardner-Edgerton 43-30 but found the end zone numerous times.
Sophomore tailback Tyler Jock is Bonner's greatest offensive weapon. He rushed for 111 yards on 20 carries in the win against Piper. Quarterback Jacob Nelson, a first-year starter, also has been good at finding open receivers. That means the Lansing defense could have its hands full.
The Lions are hoping to build off their strong second-half effort against Santa Fe Trail when they held the Chargers to just 19 yards of offense. After struggling to stop the run during the first two weeks, LHS seemed to turn a corner as it wrapped up on tackles and put smothering pressure on the Trail quarterback.
Photo Gallery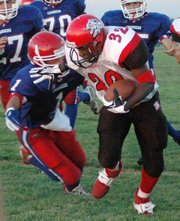 Lions surge past Santa Fe
The Lansing High football team used a big second-half effort from its defense to pull away from Santa Fe Trail, 27-13, on Friday night at SFT. The Lions' victory was their first on the road this season. They improved to 2-1 with the win.
"The wheels haven't been turning as fast, but I think this game on the defensive side will help us to pick it up for the rest of the season," said senior fullback/linebacker Lance Fink, whose 10 tackles against SFT were a team-high, as were his 109 yards rushing. "We're just going to have to come out and play two halves."
The defense rose to the occasion in a number of ways against Trail. Ryan Robbins, Logan Ryan, David Kern, Jason Bowman and Kyle Miller put constant pressure on the quarterback. Fink, Kohl and Daniel Eyerly filled holes and stopped the run. Kohl and Steve Lillard also each blocked a punt.
On offense, it was Fink, tailback Kyle Grape and quarterback Matt Warner who shouldered most of the load.
"If we can keep that kind of feeling and if we can play with that kind of enthusiasm and that kind of effort in all phases, and we can do it in the first quarter, we're going to be tough to beat," LHS coach Bill Pekarek said.
On both sides of the ball, it seemed, things started clicking at the exact same time that they did in 2004 when LHS used a week-three victory to spark an eight-game winning streak. Fink said he sensed another hot streak brewing.
"We knew (Santa Fe) was where we started last year," he said. "We started the season off better this year, but we knew this was where we started and I guess we're just going to pick it up from here and keep going."