Runners seek fast times at Tongie
Less than a week after racing on arguably the most difficult course in the state, the Lansing High cross country team is returning to familiar ground.
Four LHS runners competed Saturday at Rim Rock Farm in Lawrence, the home of the Class 5A and 6A state championships and the host site of the 1998 NCAA Division I and II Cross Country Championships.
Sophomore Griffin Davis was the lone LHS representative in the boys' five-kilometer race, while junior Bianca Manago and seniors Erin Eustice and Ashley Mayes competed in the 2 1/2-mile girls' race.
Rim Rock's windy fields and steep hills were daunting obstacles for the Lansing runners, but that should make today's 4 p.m. race at the Tonganoxie Invitational seem that much easier, Manago said.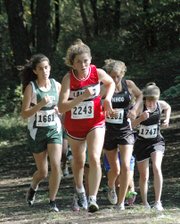 "(Tongie) is going to be a lot nicer than this one because it's real flat and this one has a lot of hills," Manago said, comparing Rim Rock to Tonganoxie. "I always like this course because it shows you how much harder it can be, so when you go back out there for those two miles you've got a new vigor. You go out stronger."
The THS course will be familiar to the LHS runners because they opened the season there on Sept. 1. That day, Manago cruised through the Tonganoxie Fairgrounds and placed fourth. Mayes finished close behind in 10th place that day.
In addition to already being comfortable with the course, the Lansing girls have another reason to expect faster times. They ran 2 1/2 miles at Rim Rock but will run just the standard two miles at Tongie.
"After running the 2 1/2 mile race, this one should be easier and I should be running faster," Mayes said.