'

Steady Eddie' Schultz leads Lansing tennis
Topeka — Rachel Elkins couldn't stop saying it: "Steady Eddie. Steady Eddie."
The phrase kept coming from the Lansing High girls tennis coach as she watched junior Heidi Schultz win point after point during her semifinal match against Atchison's Ashley Van Petten at the Hayden Invitational on Saturday.
No matter what Van Petten tried to do, whether it was a deep lob or a perfectly placed shot down the line, Schultz always seemed to find her way to the ball for a successful return. If Schultz ever became rattled, she certainly didn't show it. Van Pettern, on the other hand, grimaced and shook her racket in frustration.
Schultz eventually won the match, 8-3, despite playing through intense foot pain, and she later added an 8-3 victory against Hayden's Erin Kraus in the No. 2 singles championship match.
"I thinkn Heidi's steady play will just take her through tournaments," Elkins said. "She doesn't overanalyze anything. She just plays the game."
Schultz's first-place finish was the highlight of a very good day for Lansing tennis. Junior Kersten Probst placed third at No. 1 singles and seniors Bethanie Hill and Jaclyn Gann placed fourth at No. 2 doubles.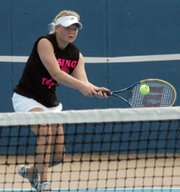 For Schultz, the victory Saturday was her second top-three finish in as many tournaments. She placed third last Wednesday at the Baldwin Invitational. She has been Lansing's most consistent player so far, thus fueling the "Steady Eddie" nickname.
Elkins said Schultz sets a good example for her teammates to follow with her playing style.
"I think that 'Steady Eddie' thing will grow on them," Elkins said. "She shows that patience that I talk about all the time. She gets back to the ready position at center court quickly."
Schultz said her even-keel style on the court isn't something she's always had. Instead, she said it's something she's learned from first-year coach Elkins.
"Coach Elkins focuses on being in the zone," she said. "I just think about the shot and what I need to do to make it. It normally works. But I've never had a temper when I miss a ball. I'd kind of get mad at myself, but this year I'm just in the zone."
Schultz will get her next chance to find "the zone" when she leads LHS into the Wildcat Invitational at 8:30 a.m. Saturday at De Soto.