Volleyball gains momentum
The Lansing High volleyball team was at its best and at its worst Tuesday night, but the former is what gives LHS coach Julie Slater plenty of reasons for optimism.
The Lions (8-3) played a nearly perfect game one against Santa Fe Trail in their opener as they cruised to a 25-12 victory, but miscommunication and a lack of focus eventually cost them the match. Later against Immaculata, the Lions showed no signs of weakness as they made good passes, dominated at the net and blasted kill after kill.
The fact that Lansing started and finished the day strong pleased Slater, but she said her job is to help her players maintain that high level of play at all times.
"Volleyball is (like a) rollercoaster," she said. "The team that wins is the team that makes less mistakes than the other team. So that's what you've got to prepare them to do is do good things with the ball and make better decisions and think out there."
Photo Gallery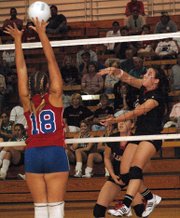 Lions fall to Santa Fe Trail, upend Immaculata
The Lansing High volleyball team lost to Santa Fe Trail and then rebounded to beat Immaculata on Tuesday night at LHS. Here are scenes from the matches.
The decision-making process has improved vastly since the Lions opened their season two weeks ago at the Lansing Invitational, Slater said. She switched senior Dayna Norwood from outside hitter to libero, which helped the passing game. She also moved junior Riann Deere from libero to hitter, which gave the Lions a better punch from the outside.
In addition, the entire squad has shown it is getting more comfortable playing together. The most vivid example came in the first game against Trail when five different players had kills and the Lions won in a blowout.
"On that first game against Santa Fe, that was flawless. That was the best game that we've played together all year," senior Keele McLaurin said. "We've just got to pull together and make it work."
The Lions will try to build off their strong all-around performance against Immaculata at 5 p.m. today at Bonner Springs when they play Bonner, Bishop Ward and Pleasant Ridge. After that they'll play in the Louisburg Tournament at 9 a.m. Saturday.
"I think it'll be good because we play Thursday again and we'll get some more kinks out," senior Casey Welch said. "Then Saturday we play and we'll slowly but surely get our little problems out of the way and we'll be a lot better."
JV KEEPS ROLLING
The LHS junior varsity volleyball team improved its record to 10-3 on Tuesday when it beat Santa Fe Trail, 25-19, 25-21, and Immaculata, 25-8, 25-11. The Lions next play at 5 p.m. today at home against Bonner Springs, Bishop Ward and Pleasant Ridge.