Teresa Hilliard says there are more reasons for people to exercise than just looking and feeling good.
"It's a whole quality of life question," she said. "You function better when you exercise (regularly), and it's great for relieving stress."
Hilliard should know. She's been teaching fitness instruction and working as a certified personal trainer for 23 years. She currently teaches yoga, aerobics and senior exercise classes at the Lansing Activity Center, 108 S. Second St.
Hilliard said she was first motivated to live a healthy lifestyle by her mother's longtime health issues and death at the age of 51.
"I was in my early 20s when she died, and I was determined that wouldn't happen to me," Hilliard said.
Hilliard said she has had only a handful of men enroll in her classes. She attributes this to the fact that the classes are on weekday mornings, and most of her students are stay-at-home moms.
"I think it's also partly intimidation," Hilliard says, "being around women who have exercised a while."
Hilliard said she had seen some dramatic improvements in some of her students, such as one who started five years ago and lost "a significant amount of weight." She has also seen "lots of health improvements in the older people" in her classes, she says.
Hilliard says one of the most basic pieces of advice she tells people who are just beginning to get in shape is, "any exercise is better than no exercise. Even if it's a five- or 10-minute walk, that's better than no walk," she says.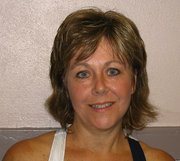 Name: Teresa Hilliard
Address: 531 Pine Ridge Court
Occupation: Fitness instructor
Family: Husband, Rick; daughter and son-in-law, Hannah and Nathan; daughter Abbie
How long have you lived in Lansing and what brought you here? Since 1997. I moved here with my husband when he was transferred to Fort Leavenworth. He's since retired from the Army.
What do you like most about Lansing? The small-town atmosphere, and that it's close to Kansas City.
What do you do for fun? Spend time with family and work out with friends.
What would surprise people about you? Most people don't know that in my younger years, in my 20s, I was a competitive body builder and a power lifter.
What the best advice you've received? "Trust in the Lord with all your heart, and don't trust in your own understanding." That's from Proverbs.
What organizations or clubs do you belong to? Wallula Christian Church, Wallula School Parent-Teacher Fellowship, American Council on Exercise, Pink Hat member of the Lansing Red Hat Movers and Shakers (Senior Exercise Group)