Defense gets it done against Bonner
Bonner Springs — When it comes to football, few things are quite as fun as playing in a mud bowl.
Except, perhaps, winning a mud bowl.
The Lansing High football team experienced the best of both worlds on Friday night at Bonner Springs as the Lions battered the Braves, 20-8.
"Thank God we've been practicing on our sloppy field," LHS coach Bill Pekarek exclaimed to his team after the game, referring to the Lions' muddy practice field, "because it got us ready to play on this field tonight."
Almost three inches of rain doused the Bonner Springs football field between Thursday night and Friday morning, making for swampy conditions and slick footing. There was so much water, in fact, that pools of water - about five inches deep in some places - stood on the LHS sideline.
The mucky field didn't deter the Lions, but it seemed to give the Braves plenty of problems.
Bonner (1-3 overall, 1-2 Kaw Valley League) had a three-and-out on its first possession of the game against a defensive effort led by Lansing senior Logan Ryan. After a punt, the Lions got the ball on the Braves' 46-yard-line. Bonner appeared to be looking for Lansing to run on its first play from scrimmage, but quarterback Matt Warner hit wide receiver Ryan Robbins in the flat instead, and Robbins streaked 46 yards down the sideline for a touchdown. The extra point was blocked and LHS led 6-0 less than three minutes into the game.
Photo Gallery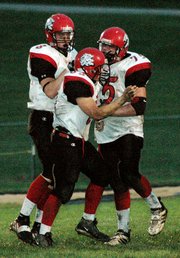 LHS football tops Bonner Springs, 20-8
The Lansing High football team beat Bonner Springs, 20-8, on Friday night at BSHS and improved to 3-1 on the season.
"Our defense kind of sets the tempo for our play," Pekarek said. "If we can shut the other team down and be playing aggressively and making things happen defensively, then generally our offense will come through and play and be more consistent."
Lansing (3-1 overall, 3-1 Kaw Valley League) may have struck quickly, but the early touchdown would be the Lions' lone score of the half. They forced Bonner into three-and-outs on every possession of the first quarter - including one where Jason Bowman sacked the quarterback on third and inches - but they also coughed the ball up twice deep in BSHS territory in the opening quarter.
"It was hard (to hold onto the ball) because your forearms would get mud on them," said junior fullback Daniel Eyerly, who led LHS with 118 yards rushing. "Me and Lance (Fink) and everybody else probably went through four or five towels just trying to keep everything dry."
LHS struggled to muster any drives in the second quarter, but the defense continued its strong play and kept the Braves off the board.
Highlighting the first-half defensive effort were sacks by Bowman, Ryan Robbins, Joe Kohl and Casey Gates, six tackles by Ryan and an interception by J.T. Collins. Bonner earned just two first downs and gained just 69 yards in the half.
"At halftime we all felt like we should've had at least 21 points on the board, but we didn't," Pekarek said. "But in the second half our guys did come out and play well and we got 14 points on the board."
As much as the Lions dominated the first half, Bonner still lingered close behind at halftime. Twelve seconds into the third quarter, however, the Braves' hopes of pulling off an upset took a serious hit when junior fullback Daniel Eyerly broke off a 67-yard touchdown run up the middle on the first play from scrimmage. That put LHS on top, 12-0. On the ensuing possession, Bonner opted to go for it on fourth-and-inches at its own 43, but Bowman stuffed Jacob Nelson on for no gain on a quarterback sneak.
Later, the Lions rattled off a seven-minute, 53-yard drive that was capped by tailback Lance Fink's six-yard run. Warner connected with tight end David Kern for the two-point conversion that put LHS on top, 20-0, with 9:51 left in the game.
The Lions played most of their backups the rest of the game. That allowed Bonner to run off a 16-play, four-minute drive and score with 40 seconds left in the game to avoid the shutout.
The victory against Bonner was the Lions' most complete win of the season and it marked the first time they've played solid football for all four quarters. The offense gained 246 yards despite playing without starting tailback Kyle Grape who was held out of action Friday. Meanwhile, the defense allowed Bonner to gain just 164 yards. Of those yards, only 111 of them came against the starters.
The Lions will try for their third win in a row at 7 p.m. Friday when they travel to Spring Hill to take on the 0-4 Broncos.
NOTES
- Joe Kohl led the Lions with 10 tackles. Ryan Robbins and Kyle Miller added eight apiece. Logan Ryan and Jason Bowman each had six tackles.
- Fullback Daniel Eyerly led LHS with 118 yards rushing on 13 carries, including a 67-yard touchdown run.
- Tailback Lance Fink, Lansing's usual starting fullback, had 14 carries for 45 yards and a touchdown.
- Quarterback Matt Warner completed five of eight passes for 62 yards and a touchdown.
- Robbins had three catches for 55 yards and a touchdown.