Dual matches give coach insight into future pairings
As much as Rachel Elkins' players have learned this season from the first-year Lansing High girls tennis coach, Elkins has learned a few things, too.
For one, she's learned just how important scheduling is. It's likely that next year she'll request to have more dual matches scheduled early in the season so she can mix and match her players to see who shows the best chemistry early.
"We're midway through the season now," Elkins said. "I hope to influence the schedule where upfront I can see better mixtures of players. That means having more duals up front so that I can interchange some players without really defining some teams right off the bat and protecting some seeding records early on. I think that will help me in the future with making selections sooner."
The Lions had a dual on Monday against Kansas City Christian and another on Tuesday at Perry-Lecompton. Elkins was allowed to bring almost her entire squad - varsity and junior varsity - to the duals, and she was able to mix and match her players to see who played well together during live competition.
Photo Gallery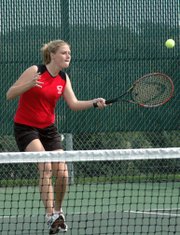 LHS tennis third at De Soto
The Lansing High tennis team placed third at the Wildcat Invitational on Saturday at De Soto High School. Here are scenes from the day.
Monday's dual proved to be an eye-opener for Elkins. She'd noticed on-court chemistry between junior Abby Hauver and senior Bethanie Hill during practice, so the dual gave her the opportunity to pair them together. The result brought a smile to Elkins' face. Hauver and Hill dominated KC Christian's Catherine Farris and Julia Stevens, 8-2. More important, though, was the way the pair fed off each other. Their communication was good, and each seemed to know where the other person would be at all times.
Hauver and Hill lost, 8-6, on Tuesday, but Elkins said the chemistry still was there. She said it's possible they'll play together for the rest of the season.
"I'm about 90 percent sure that's the match to get that No. 1 doubles team beyond regionals," Elkins said. "I thought there was good chemistry. They both have good ground strokes and make good decisions on shots. For their first time together, that was some pretty good chemistry."
Elkins also was pleased with the play of her No. 2 doubles team: seniors Rachel Darrow and Jaclyn Gann. The pair placed fifth on Saturday at the Wildcat Invitational at De Soto. By winning matches on Monday and Tuesday, they improved their record to 6-1 together.
"I think that they're starting to jell," Elkins said. "They have both off-court and on-court chemistry. They know where each other is on the court. They're making better shot selection now. The team is winning. I think that's a pretty good combination."