LHS

football shoots for third straight win
Spring Hill is next challenge
Few things about the Spring Hill Broncos strike fear into opposing football teams.
After all, they're 0-4 and appear to be on their way to a repeat performance of last year's 0-9 campaign.
The Lansing High football team knows Spring Hill can be tough, though. After all, the Lions needed a late touchdown to defeat the Broncos, 19-7, last year at home.
This year's contest will take place at 7 p.m. Friday at Spring Hill, and LHS coach Bill Pekarek said he saw some things that could make the Broncos dangerous.
"They run the shotgun almost 100 percent of the time," he said. "They've got some speed. They'll throw the ball and run the ball a bit out of the shotgun. They'll do stuff with their tailback and their fullback, run the option and the option-reverse. We expect ourselves to be able to put pressure on their quarterback and create problems for them."
Photo Gallery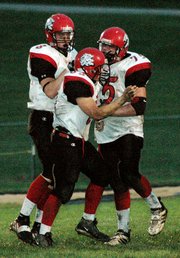 LHS football tops Bonner Springs, 20-8
The Lansing High football team beat Bonner Springs, 20-8, on Friday night at BSHS and improved to 3-1 on the season.
Fortunately for the Lions, they've seen the shotgun during each of their last two games. Both Santa Fe Trail and Bonner Springs ran the shotgun at times, and the Lions' defense was able to shut it down.
"It's not like it's all brand-new for us," Pekarek said. "It's stuff we've already had to prepare for. Now, what we have to do is keep executing it."
Pekarek's squad has given him plenty of reasons to be optimistic that they will execute effectively again this week. After all, beginning with the second half against Santa Fe, Lansing's defense has allowed just eight points. Those came against the second string with 40 seconds left in Friday's 20-8 victory against Bonner.
"We showed what we can do," senior lineman Logan Ryan said. "We're ready for anything."
After being frustrated by poor tackling during the first two games of the season, Pekarek said he has been thrilled with the way his defense has jelled. The Lions (3-1) have received big performances from Ryan, Jason Bowman, Lance Fink, Brett Wessel, Joe Kohl, Steve Lillard and Ryan Robbins during the past two games. It also has helped having Kyle Miller back from an injury.
"I feel like things are starting to come together for us now," Pekarek said.
FRIDAY NIGHT REView
On a sloppy field that was covered with puddles and caked with mud, the Lions overcame two early turnovers and picked up a 20-8 victory at Bonner Springs in Kaw Valley League action.
The defense provided the spark as it held the Braves to just 164 yards of total offense - most of which came in the fourth quarter when the lead already was secure. Kohl led the LHS defense with 10 tackles, but it was junior Daniel Eyerly's surprising play at fullback that helped the Lions put the game away. Eyerly had 13 carries for 118 yards, but it was his 67-yard touchdown run at the start of the third quarter that proved to be the knockout blow.
Fink added 45 yards rushing, and Robbins had three catches for 55 yards, including a 46-yard touchdown reception on the Lions' first offensive play of the game.
Warner completed five of eight passes for 62 yards.