Lions fall to Mill Valley again
LHS

suffers second loss to Jaguars this season
Too much speed.
That's what the Lansing High boys soccer team's rematch with Mill Valley boiled down to Thursday night.
The Jaguars simply were too fast for the Lions to keep up. The end result was a 2-0 Jaguar victory at Lansing Middle School.
Lansing had a few opportunities to score in the game's opening minutes, but Ty Thackston and Brad Mock misfired from close range. Then, in the 11th minute, Mill Valley forward Josh Grimes broke free toward the LHS goal. Lansing defender Steve Parker caught up to him and attempted to cut him off, but Parker pushed Grimes and was called for a foul in the box. The result was a penalty kick, which Grimes buried inside the left post for a 1-0 Jaguar lead.
The Lions (9-2) settled down after that and created a few more scoring chances before halftime, but they were unable to convert. Mill Valley had a few more chances to score, too, but Lansing goalkeeper Alex Burton made numerous acrobatic saves and kept the game close.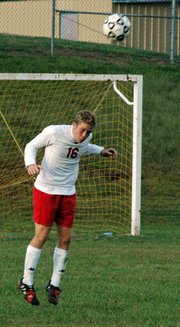 Mill Valley continued to pressure the Lansing goal in the second half, but Burton's tough play kept the Lions in the game. Finally, in the 63rd minute, the Lions' defense collapsed and Mill Valley fired a shot on goal. Burton charged from the box, dove and pushed the ball wide, but the Jaguars' Spencer Nash collected the ball and fired another shot. This time, LHS defender Nate Markovetz tried to clear it but his header deflected into the net.
The Lions never were able to get on the board, marking the second time all year they've been shut out. The other shutout loss was a 1-0 defeat to Mill Valley during the second game of the season.
Lansing next plays at 6 p.m. Monday at Tonganoxie.
THACKSTON'S GOAL ENOUGH IN JV WIN
Lansing High sophomore Chance Thackston scored a goal with about 11 minutes remaining in the first half, and it proved to be just enough offense for the LHS junior varsity boys soccer team to defeat Mill Valley.
Lansing 1, Mill Valley 0.
In a game that was played fairly evenly for most of the contest, the end result came down to one shot. Late in the first half, a Lansing player sent a pass into the box. During a scramble for the ball, Thackston corralled it and one-touched a shot into the net. That put the Lions on top for good.
With the victory, Lansing improved to 10-1 on the season. The Lions next play at 4:30 p.m. Monday at Tonganoxie.