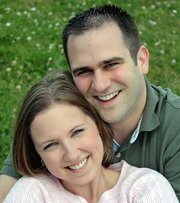 Leah Brosius and Austin McKune, both of Seattle, announce their engagement.
The bride-to-be is the daughter of Thomas and Sandra Brosius, Gig Harbor, Wash. She is a 2004 graduate of the University of Washington and is employed as a database administrator with Boeing.
The future groom is the son of David and Susan McKune, Lansing, and Ruth and Tom Pisciotta, Kansas City, Mo. He is a 2004 University of Kansas graduate and is an aerospace engineer with Boeing.
The couple plans an Aug. 12, 2006, ceremony in Seattle.