K-7 work takes toll on business
7-Eleven closes, antique store relocates ahead of project's start
While workers moved out shelving, boarded up windows or removed signage, Charlie Cavenar was busy Wednesday with paperwork related to the closing of the 7-Eleven at 501 N. Main St.
The convenience store that opened in 1978 at Main and Fairlane is the first victim of the Kansas Highway 7 system enhancement, or Main Street project. The $18.9 million Kansas Department of Transportation project, which is scheduled to get under way late this year, will add a fifth lane to Main Street from Connie Street to Gilman Road.
"Yes, the closing is part of the expansion of the highway," said Cavenar, who was the store's manager. "You lose part of your drive, you can't run this store with just a part of a parking lot."
The Transportation Department is taking the front section of the lot at 7-Eleven, where gasoline pumps stood earlier this week but are now gone. The state needed the space for intersection improvements at Main and Fairlane.
7-Eleven isn't the only business already affected by the highway plans. Owners of Babe and Grayce's Antiquables, 112 S. Main St., are preparing to move - but they don't know where they're going just yet.
Robert Fabian, who owns the store with his wife, Catherine, said the entrance to the store's parking lot would be closed permanently on Nov. 1. The plan is for a parking lot to be built a few doors down from the current location, but "we don't think that will work for us," Fabian said.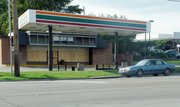 Another factor in the move, he said, was that the old building was too expensive to heat and cool.
Fabian said he and his wife had not yet decided where to relocate, but they definitely want to stay in Lansing.
"We don't want to be just another antique shop in Leavenworth instead of the only antique shop in Lansing," he said.
Fabian said he hoped to have the store open again by early spring when three new strip malls are scheduled to be open. He said he would need a space with about 2,000 square feet for the store.
But before he looks at a new store, Fabian will be closing down the current one. He said items would be steeply discounted from Oct. 1-15 to clear out the store.
"The deadline is October 15," he said. "The more we sell, the less we have to move and store."
At 7-Eleven, Cavenar said he and four of his employees will be going to jobs at sister stores in Missouri; another worker at the store is headed to a job with a 7-Eleven in Leavenworth. The remaining two of the Lansing store's employees have found jobs elsewhere.
"Don't worry about us," Cavenar said, "we all have jobs."