Lansing's largest snowfall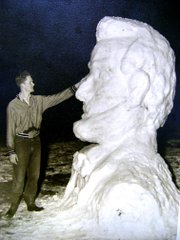 The weather is still in the 90s as I write this, so I thought I would talk about the largest snowfall in the past 50 years in Lansing to help cool us off.
In early February of 1956 we had a 17-inch snowfall and our boys, David, age 4, and Michael, age 3, wanted me to build a snowman. Since Abraham Lincoln's birthday was just a few days away, I decided to do a bust of President Lincoln. It took all of the 17 inches of snow in our front yard to build this snowman.
The boys helped me roll three large snowballs for the base and the shoulders. Then we used long planks as an incline plane to start his head. Then we rolled large balls of snow for the top of the head. Then I started sculpting the likeness. It was perfect snow to work with, as it was moist enough to stick together when snow was added where needed. It took five hours and a tall ladder to complete this project. The finished product was about 8 feet tall. It was so strong that I sat on top of his head.
Our across-the-street neighbor, Walt "the Barber" Opfer, called the newspaper about it and they came out and took some pictures.
Surprisingly, these pictures made it into papers all over the country. I received clippings from as far away as England as it was in "The Stars and Stripes." After the picture was in the paper there was a steady stream of cars coming by to take a look. I had to continue repairing it as the sun took its toll.
To my knowledge we have not had a snowfall of that depth since then.