Lansing protects ranking, defeats Turner
Lions outshoots Bears 41-3
The Lansing High boys soccer team began its defense of its No. 1 ranking in Class 4A on Wednesday evening against Turner and, for the most part, the Lions looked like the superior team.
They won the game, 2-0, and they held a 41-3 shot advantage over the Bears. Still, LHS coach Randy Brown wasn't satisfied with his squad's effort. He said his players lacked focus and weren't determined enough to finish their numerous scoring opportunities throughout the game.
"It's a 'W,'" Brown said. "We were just having problems finishing. We were outshooting them like crazy, but we can't be that lazy on our shots. We've got to be able to finish the ball. It was everybody. Everyone had opportunities and were not finishing"
The Lions (9-1) applied pressure from the opening seconds. Less than a minute into the game, senior forward Ty Thackston drilled a shot off the crossbar. The LHS offense controlled the ball for almost the entire half, but it took almost 19 minutes before the Lions finally found the net.
At the 18:34 mark Brad Mock buried a goal after Nate Markovetz's shot ricocheted off the Turner goalkeeper's hands.
Thackston, Mock, Mike Bayless and Andy Dick all had multiple chances to score the rest of the half, but Dick finally scored in the 39th minute when Bayless slipped him a pass that he two-touched just inside the far post to push the lead to 2-0.
Photo Gallery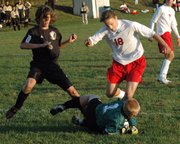 LHS soccer holds off Turner, 2-0
The Lansing High boys soccer team defended its No. 1 ranking in Class 4A and beat Turner, 2-0, on Wednesday evening.
The Lions continued to dominate throughout the second half, but they weren't able to convert again.
Turner only had three shots all game, but they also had a few breakaways where LHS goalkeeper Alex Burton charged out and took the ball off the forward's foot. Burton's aggressive goaltending kept the outcome of the game from ever being in question.
"He knows how to come on out and, no mater what,the goal shrinks. Then he's on the ball smothering it or they're shooting and he's smothering it. It's no problem," Brown said. "He just has excellent technical skills as a keeper."
The Lions turn around and play host to Mill Valley at 6 p.m. Thursday at Lansing Middle School. The Jaguars handed LHS its only loss of the season - a 1-0 decision in the second game of the season.
"Tomorrow is a bigger opponent," Brown said. "We were better than (Turner). They're a good team, but we're better than them. We deserved to win, but we really should have done a lot better. We need to improve if we're going to be able to do well as we head toward regionals."
JV WINS, 5-0
The Lansing High junior varsity soccer team has rebounded nicely from its lone loss of the season. After dropping a 3-0 decision to Kansas City Christian last week, the Lions beat Bishop Ward, 1-0, on Tuesday at Ward and then picked up a 5-0 victory Wednesday night against Turner.
Tylor McNeill scored three goals in the victory. Nick Algarra and John Sebes also scored for the Lions.
Lansing (9-1) will play host to Mill Valley at 4:30 p.m. Thursday at Lansing Middle School.