Transfer rule frustrates Flippo, but it doesn't slow her down
Junior continues to dominate
JV

circuit
A smile broke out across Lansing High cross country coach Errol Logue's face as he watched junior Lori Flippo cover the first half mile of her two-mile race on Thursday at the Tonganoxie Invitational.
Flippo, a transfer from Leavenworth High, pushed hard from the starting line and then settled into her pace. She began picking off runners one by one and found herself a place among the race's leaders. It was the same way she'd run her first three races this season.
"I like the way she races," Logue said as Flippo moved up to second place, a mere 10 meters behind the first-place runner.
Flippo ultimately placed fourth in the race, but her time of 14:32 was a personal best by 25 seconds.
"It's kind of disappointing that I got fourth today," Flippo said, "but it's really hot and it's my best time yet, so I guess I don't need to beat myself up about it."
For Flippo, fourth was her lowest finish of the season. She placed third in the season-opener at the Tonganoxie Quadrangular and then won back-to-back races before Thursday's fourth-place finish.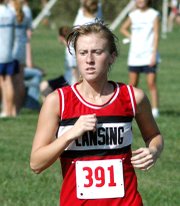 "She's disappointed in fourth," Logue said, "but that's the best thing that happened to her. Sometimes you'll run a good race (and not win), but that makes you better. She needs some more fourth-place finishes."
Flippo's steady success in the junior varsity races might make people wonder why she hasn't found a spot on the short-handed varsity squad. Time-wise, Flippo could be Lansing's No. 3 varsity runner, but transfer rules prohibit her from competing in varsity sports during her first semester.
"It's very frustrating," Flippo said of being denied the opportunity to compete at the highest level. "But I've got next year, so I guess it's OK."
Flippo's family moved to Leavenworth from Texas last year. Upon arriving in Kansas, she began running for the Pioneers. She said she didn't show much progress throughout the season. Her times remained in the 16's and upper 15's, but she didn't feel like she was getting better.
So, what was it about running at Lansing that has helped Flippo improve her times so quickly?
"Logue," she said matter-of-factly. "He's a much stricter coach."
As one of 15 runners at LHS, Flippo said she doesn't feel like just another number.
"At Leavenworth, there were so many people that the coach couldn't give individual comments to everyone," she said. "We have 15 people on our squad, so everybody gets a really good workout and Logue gives everybody advice."
Flippo said she was pleased with the progress she's made so far this season, but she said her goal is to run much faster.
"My goal is to get into the 13's," she said.