Lions rush past Spring Hill
Fink nets 105 yards rushing in first half as
LHS

cruises
Spring Hill — When Spring Hill's Kevin Miller returned a kickoff 85 yards for a touchdown early in the first quarter Friday night, it seemed like the Lansing High football team could be in for a long night.
The same play that briefly ignited the Broncos' upset hopes also ignited Lansing, however, as the Lions regrouped quickly and rolled to a 48-28 victory at Spring Hill.
By storming back and winning, Lansing improved to 4-1 for the season. That marks the best start to a season by a LHS football team during coach Bill Pekarek's five years at the helm.
"I don't think we've been off to a 4-1 start in many, many years," he said. "I've been here since '95 (head coach since 2001) and I don't think we ever were 4-1. I know in the last five or six years we haven't been off to this kind of start, so it feels pretty good."
"We're still kind of disappointed that we lost the Mill Valley game," he added. "It's a game we should have won, but we didn't, so we're just heading on from there. I think we're getting better each week."
Lansing took the lead just 3:14 into the game when senior fullback Lance Fink burst up the middle for a 16-yard touchdown run. The extra point failed, so the Lions led 6-0.
Photo Gallery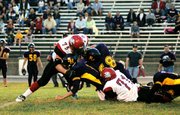 Lions drill Spring Hill, improve to 4-1
The Lansing High football team beat Spring Hill, 48-28, on Friday night at Spring Hill. With the win, the Lions improved to 4-1.
The intensity on the sideline died down momentarily after the early score, and Spring Hill answered in impressive fashion as Miller broke off his long return. The two-point conversion gave the Broncos (0-5) an 8-6 lead.
"I get a feeling sometimes that we get too comfortable when we gain a lead," LHS coach Bill Pekarek said. "Our guys have got to quit getting so comfortable when we get a lead. We need to learn how to get them on the ropes and knock them out."
The Lions turned the ball over on their next possession and Spring Hill looked poised to score again as it drove all the way to the Lansing four. At that point the defense stepped up and turned the game around. Ryan Robbins had a tackle-for-loss on first down. Then came an incomplete pass as Kyle Miller put heavy pressure on the quarterback. Then came a two-yard loss, followed by another incompletion on fourth down as Miller bore down on Spring Hill quarterback Cole Henkle again.
That's when the offense gradually heated up. LHS drove 44 yards before being forced to punt, but the Broncos fumbled on their next possession and Joe Kohl recovered it to give Lansing the ball at the Spring Hill 35-yard-line. Four plays later, Fink busted up the middle for a 10-yard touchdown run. Robbins' extra point gave Lansing a 13-8 lead. The Lions never trailed again.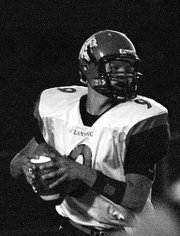 The defense forced another three-and-out, and the offense followed with a 10-play, 63-yard scoring drive that was capped by a three-yard run from tailback Kyle Grape. That put LHS on top, 20-8, with 5:56 left in the second quarter. After another Spring Hill punt, the Lions marched down and scored again. This time quarterback Matt Warner conntected with Robbins on a fly pattern down the left sideline for a 27-yard touchdown strike. That put the Lions on top, 27-8, and the score stood through halftime.
At halftime, Fink already had 105 yards rushing and two touchdowns. Grape also had 63 yards rushing and a touchdown. Warner already had thrown for 94 yards. In contrast, the Broncos had just 97 yards of total offense during the first two quarters.
"I thought the defense played real solid," Pekarek said. "We had a good pass rush tonight, and Robbins was in (their quarterback's) face knocking down passes and making him throw high. We had pretty good coverage most of the night."
The Lions needed just 77 seconds to score their first touchdown of the second half. After getting the ball on their own 35, Grape caught a pass over the middle for a 42-yard gain. Then Fink ran for four yards up the middle. Then Warner found Fink open in the flat for a 19-yard touchdown. That pushed the LHS lead to 34-8.
Later in the third quarter, Grape added a nine-yard touchdown run. Then, Joe Kohl forced a fumble on the ensuing kickoff when he laid a bone-crushing hit Spring Hill's Brandon Rogers. The ball popped loose and Josh Bradley recovered it for LHS. Grape scored five plays later and pushed the Lions' lead to 48-8.
Even though the Lions had a comfortable lead, the Broncos weren't about to quit. Kevin Miller ran the ensuing kickoff back 72 yards for another touchdown and trimmed the score to 48-14. Later, Lansing backup quarterback J.T. Collins threw an interception that was returned for a touchdown. The Broncos added another score with 1:32 left in the game when it scored against the LHS reserves.
Lansing dominated on both sides of the ball for the entire game. The Lions piled up 439 yards of total offense. Of those yards, 263 came on the ground. Fink finished the game with 148 yards on 17 carries. Grape rushed for 112 yards on 19 carries. Warner completed nine of 16 passes for 176 yards and two touchdowns.
Defensively, the Lions gave up just 186 yards of offense to the Broncos, but the also allowed Spring Hill to gain 148 yards on five kickoff returns.
Fink led the Lions with nine tackles. Robbins had six, and Miller, Logan Ryan and David Kern had five apiece. Collins also had an interception.
Up next for Lansing is its homecoming game at 7 p.m. Friday at against Immaculata at Frank Graham Field. The Raiders are 0-5 and dropped a 27-0 decision to Piper their last time out.