LHS

takes first at Sunflower
Bonner Springs — The Lansing High golf team placed all five of its golfers in the top 10 and ran away with the team title Saturday at the Sunflower Hills High School Invitational.
LHS sophomore Maria Jackson led the way as she placed second individually with an 86. Junior Ted Haugland was sixth with a 91. Junior Stefan Froelich, senior Max Kozak and senior Andrew Cameron placed eighth, ninth and tenth, respectively, after all three shot a 92. Cody Sims of Tonganoxie was the overall champion with an 82.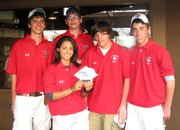 Lansing dominated the team standings as it placed first with a 361. Piper was second with a 380 and Tonganoxie was third with a 386.
"The scores were a little high today," LHS coach Bill Pekarek said. "But our scores were kind of grouped together and we had a lot of guys in the same area. I know we can play a little bit better than that, but I really think that our team is better than we were a year ago."
The reason LHS appears to be better is because it finally has quality depth. Last year the Lions would have one or two players near the top of the individual standings, but there would be a major gap between the top players and the rest of the squad.
On Saturday, all five Lions were within six strokes of each other.
"We have more competition among our own team," Pekarek said. "We're going to push each other to get better, and there's going to be a dogfight to make tournaments and stuff like that."
Jackson was seeded as Lansing's No. 2 or No. 3 player at most tournaments last year because of her consistent play in practice, but she struggled to maintain her focus during tournaments and eventually slid down the Lions' varsity roster.
Saturday, however, she entered the tournament as Lansing's No. 1 player and backed up the ranking with a stellar performance. She fired a 43 on the front nine and matched it on the back nine. Her total score of 86 tied Derek Kooser of Immaculata, but Jackson held the tiebreaker advantage and secured second place.
Jackson said her mental focus was the key to her high finish.
"Over the summer I worked on my mind because my dad said it's basically all in my head," she said. "I just worked on my mind, so now when I hit a shot I'm a lot more confident."
The rest of the Lions shot with confidence, too. Cameron, Kozak and Froelich all started slow, but all three improved their focus and shot a lower score on the back nine.
The Lions will try to build on their strong showing when they return to the links at 9 a.m. Monday when they compete at Gardner.