Dangers of domestic violence come to life in lesson at
LHS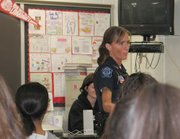 A Lansing police officer's presentation to Lansing High School girls offered eye-opening advice and emotional insight into domestic abuse.
Officer Sundae Holler spoke to the students for close to an hour, using two recorded 911 calls reporting domestic violence and a slide show with pictures of injured victims to stress how dangerous domestic violence can be.
She presented classes with facts about domestic abuse, as well as personal anecdotes on situations in which she has been involved. She also cited common themes occurring in households with domestic problems. Holler told the students that abusive behavior was rarely isolated, and in most cases the violence gets more intense as it continues. However, women - the most common victims in disputes - almost always believe that incidents are a one-time occurrence. "It's only going to get worse," Holler said.
The presentation was a result of a new unit set in place by Melissa Cappel, a health and physical education teacher at Lansing High.
"It's recommended in the state curriculum," Cappel said.
Considering that, according to Holler, one in four women will be in an abusive relationship before graduating high school, the presentation was timely.
She said that victims often think they can control the abusive behavior, and an abuser will usually blame the victim for provoking their attack. Therefore, a victim "probably feels like she has brought this on herself," Holler said.
Holler said a major problem with most domestic disputes was that victims become too embarrassed to tell friends and loved ones about their problems. They worry about what they will have to say to cover up their injuries, and a common theme with abuse victims is that once an incident has been brought to light, victims show no emotion when describing a dispute, Holler said.
Holler cited the use of children as a means for abusers to gain sympathy from their victims, preventing the victim from walking out on her spouse.
"He can control her that way," Holler said. She added that abusers sometimes injure their spouses in places that easily can be covered by clothing to prevent speculation about abuse.
Holler noted that men can also be subject to domestic abuse, but they are almost always too embarrassed to bring attention to the problem.
Kansas employs a "three strike" law regarding domestic violence offenses. The first two domestic violence offenses are considered misdemeanors; however, the third offense becomes a felony, and the guilty party can be subject to 90 days in prison.
Tom Slaughter is a University of Kansas journalism student and will be contributing articles this semester to The Current.