Drivers gamble with left turns at Main
&

Ida
Police keep busy citing motorists
Plenty of drivers are willing to gamble a $100 fine to make a now-illegal left turn onto Ida Street from Main Street.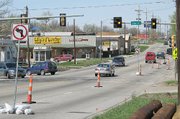 Police Chief Steve Wayman surmises he could station an officer at the intersection on a full-time basis to write citations for the illegal turns, and drivers still would press their luck.
"We've done everything we can to inform people that you can't make a left turn there. The city has done everything it can to inform people. Still, people are making left turns there," Wayman said earlier this week.
Left turns from the northbound lane of Main Street onto Ida have been prohibited since Friday, when crews from Kansas Gas Service closed Main's outer northbound lane as they prepared to move utility lines ahead of the Main Street System Enhancement road project.
Wayman said patrol officers spent much of Friday pulling over and issuing verbal warnings to drivers who had made the illegal left turns. Officers stopped giving the warnings and began writing citations this past weekend. The fine in municipal court is $100.
"It wasn't like it was just one car," an exasperated Wayman said describing the rash of offenders. "It was multiple cars."
As of Tuesday morning, Wayman said, more than 40 citations had been issued in the area.
Complaints have been lodged with Wayman both from offenders who have been ticketed and drivers who have sat in standstill traffic while someone ahead at the intersection waited for traffic to clear to make the illegal turn.
He said he received a call Friday night from a person who said traffic was backed up on Main Street clear to Petro Deli because of the left turns.
"Those people have every right to be upset," Wayman said.
To drivers who have been cited, Wayman has little sympathy.
"It's real simple. It's posted: 'No Left Turn.' If you don't want to be ticketed, don't make a left turn there," he said.
"I hate being forceful, but this really is an all-or-nothing policy," he said. "You can't ticket someone for making an illegal turn there and turn around and tell the next person it's OK. This has turned into one of those problem areas."
As the utility relocations have progressed in the area around Main and Ida, Wayman has since ordered that left turns be banned from Main into the Lansing Lumber site so that drivers can't use it as a turnaround point.
Wayman dismissed any suggestion police were writing tickets to generate revenue.
"It's not about the money. We're trying to decrease the potential for accidents. We're trying to decrease the potential for road rage," he said.
Yet, Wayman doesn't see the number of citations dropping until word spreads about the $100 fine.
"People just don't seem to get it until you hit them in the pocketbook," he said.
Wayman is philosophical about his newest headache: "This is a preview of what traffic conditions are going to be like for a long time" once the Main Street widening and reconstruction project begins, he said.
"In two years, it'll all be over."