Ice cream entices students to read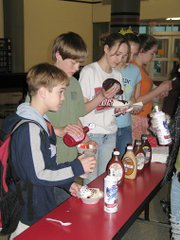 Read a few books, get free ice cream.
That's the incentive Lansing Community Library and Lansing Middle School library use to entice third- through eighth-grade students to read books that are up for the William Allen White Children's Book Award, a Kansas reader's choice award.
Both libraries had their ice cream voting parties in the past week. Students have had since April 2005 to read the 2006 nominees, and if they read a minimum number of the nominated books, they were eligible to vote for their favorite.
At LMS, students had to read five of the books to attend the voting party on Thursday, March 30. They first picked their favorite book and then their favorite ice cream toppings to celebrate. Each of the 26 students also won a prize.
Kevin Keller, a seventh-grader at LMS, said one of his favorite books on the list was "How Angel Peterson Got His Name," a biography of author Gary Paulsen's childhood. Kevin said he often preferred biographies to fiction.
"I kinda like the ones that are more realistic," he said.
Sarah Gibler, a sixth-grader, said she liked "Under the Same Sky," a mystery about Mexican immigrants.
"It left you hanging until the end," she said.
The intention of the contest is for libraries across the state to send their results to Emporia State University, which runs the book award program, but LMS librarian Marlene Brown said she no longer sends the school's results to the state. Instead, she tallies the votes and announces the favorite book at the school.
Darlene Dean, librarian at the community library, said about six students showed for the voting party there on Monday, April 3. Two favorites emerged: "Gifts From the Sea" and "Ravenmaster's Secret."
For her part, Brown said the variety of subjects was well rounded, but she thought the reading level was a bit low for the middle-school students.
"Students have become more sophisticated readers in the past few years," she said. In addition, she said, "Harry Potter really turned kids on to bigger books."
Dean, however, said she thought there was an appropriate mix of reading levels.
"I don't mind if there are some that are lower level because then there's something for everyone," she said.
The winners of the 2006 awards should be announced later this month, but next year's books already have a place on Dean's shelves for those who want a head start.