LHS

plays Blue Valley to a draw
Lightning halts scoreless game with 8:07 left
Stilwell — The East Kansas League has been the undisputed top power conference in the state for girls soccer for the past five years. On Wednesday night, the Lansing High girls squared off with their first of two EKL foes when they played the Blue Valley Tigers at the Blue Valley West Sports Complex.
For 71 minutes, 53 seconds, the Lions and Tigers battled to a scoreless draw. The final 8:07 never got played. Lightning was spotted close to the stadium, and minutes later a steady rain began to fall. The game was called immediately.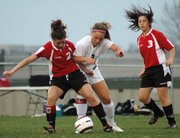 The stoppage of play came at a bad time for Lansing. After struggling to generate any offensive attacks during the first half and first 20 minutes of the second half, the Lions finally were starting to build a little momentum. Despite junior defender Michaela Bristow and junior midfielder Kayla Pina leaving the game with apparent injuries, the Lions became the aggressors during the final 10 minutes of the game.
Forwards Abby Livingston-Shelburne, Rachel Pride, Christine Cordes and midfielders Erin Griffen and Bianca Manago finally found some room to work. None of them ever fired a shot, but they started putting significant pressure on the Tigers' defense.
The final 10 minutes were a far cry from the first 60 when Blue Valley dominated with its superior speed. LHS had trouble stringing passes together and maintaining possession against Blue Valley's speedy midfielders.
A solid defensive effort by juniors Abby Hauver, Elizabeth Cristiano, Bristow and freshman Lauren Algarra made it difficult for Blue Valley to get any open looks at the goal. The Tigers fired nine shots in the first half, but only three were on target. They had more success in the second half as they placed five of 10 shots on goal, but each time sophomore goalkeeper Katie Nietzke was there to make the save.
Nietzke finished the game with eight saves and earned her first shutout of the year.
Lansing (2-0-1 overall, 2-0 Northeast Kansas Soccer League) returns to action at 4:30 p.m. Thursday when it plays host to De Soto at Lansing Middle School. There will be no junior varsity game.