Photographer exposes history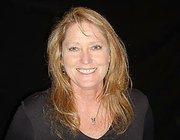 Not many people know what it is like to sweat over messages that will self-destruct in a matter of seconds, but Debra Bates-Lamborn might have an idea.
Copying irreplaceable and rare photographic negatives of historic Leavenworth, she had to constantly monitor their temperature and exposure to the air. The antique negatives, which utilized nitrate, were highly volatile.
"They're highly explosive, so we had to put them in the refrigerator when I was done," Bates-Lamborn said. "I'd have to refrigerate them when I was done working on them because they could explode at any minute."
Bates-Lamborn reacquired the historic negatives from Chicago-based photographic author David R. Phillips and brought home an invaluable piece of local history.
"David had come down here during the 1960s and bought all these negatives: 300,000 of them," Bates-Lamborn said. "Carroll Mansion paid for me to fly up there to talk to David and I negotiated - they bought the negatives that David had for sale, which included the 5,000 nitrates, of which 2,000 I have already done copies of."
Working with the dangerous and priceless artifacts heightened Bates-Lamborn's sense in the darkroom in ways she never imagined possible, she said.
Bates-Lamborn's love for photography began when she first began taking seniors' photos for the University of Kansas yearbook. She quickly realized that she "had an eye," but it took awhile for her to realize the true importance photography holds for her.
"To me, I would say that pictures are all about our history, and if we don't preserve them, if we don't make them and we don't keep them, we lose a large part of that."
Name: Debra Bates-Lamborn
Address: 26001 151 St.
Occupation: Photographer
Graduate of: University of Kansas
Family: Paul, husband
How long have you lived in Lansing and what brought you here? Off and on since 1972; father retired from military
What do you like most about Lansing? I used to like it because it was small; it's a quiet community : it's a good community.
What do you do for fun? Sit on the deck and watch my six dogs.
What would surprise people about you? I'm the quiet, shy one in the family.
What's the best advice you ever received? My dad's advice was "get out and see the world."
What organizations or clubs do you belong to? Lansing Historical Society