A trip to remember
Visit to China gives students new appreciation for culture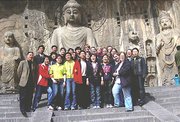 Lansing High School students and teachers who traveled to China for two weeks last month could hardly stop talking about the sights, the sounds, the food and the overall experience when they returned last week.
After just three days in Kansas, librarian Debra Hutton said she was ready to go back. She said she spent all weekend telling her friends about the trip, and on Sunday night, she found herself in an Asian food market looking for foods she'd grown accustomed to.
"I'm amazed by how much I loved it," she said.
The group of eight students and three teachers was participating in an exchange program with Kaifeng No. 5 Middle School. They left before spring break on March 17 and returned late Friday, March 31.
While in China, the students and teachers shadowed their counterparts at the school and traveled around the country.
English teacher Linda Leffler said the group spent two full days and a few partial days at the Chinese school. When they arrived, there was a large welcoming party and banner for the Lansing group, she said.
"They really went out of their way to make us feel accepted," she said.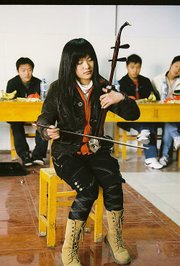 While they were at the school, Leffler said the Chinese students asked a myriad of questions about American life. They wondered how American students are accepted to universities, where geographically the visitors were born and what types of pets Americans have. Leffler said the Chinese "had very little idea about Mexican food," so the Lansing delegation tried to explain a taco.
One perception the Chinese students communicated was that they worked harder than American students.
Junior Rachel Schifferle said she thought the Chinese studied more difficult subjects, but they weren't necessarily all working hard.
"There were still students who were sleeping in class and talking back to teachers," she said.
The Lansing group also shared some American culture with its hosts. The students taught their Chinese counterparts songs like "Twinkle, Twinkle, Little Star" and "YMCA" and the dance The Electric Slide.
"They are very into singing," Hutton said. "Next year's (Lansing exchange) group needs to be prepared to sing."
When not at the school, the group explored many famous sights like the Great Wall, the Forbidden City, the Terra Cotta Warriors and Tiananmen Square. Leffler said the students seemed uneasy during the trip to Tiananmen Square.
"It's a little unsettling to be in a place where they knew such violence had occurred," Leffler said.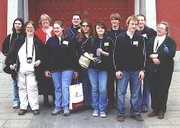 The group also visited some lesser-known sights such as the Longmen Grottoes and Shaolin Temple, where a style of martial arts was invented. But even considering the exotic locations they visited, Leffler said the group "unanimously agreed that the most important and pleasant time was with the host families."
Senior Stefan Dumlao said his view of the Chinese completely changed after his visit. He said he had "no understanding" of Chinese life prior to the trip.
"It's not as bad as people make it seem," he said.
The people he met, he said, had a good quality of life and a positive outlook, and they seemed to love their families and be respectful.
Overall, Leffler said she thought the trip had accomplished its purpose, exposing Lansing students to a new culture and helping the Chinese students use their English.
The Lansing students who went on the trip will be sharing more of their experiences at school. Leffler said many teachers had asked the students to make a presentation about their trip to make up for the week they were out of class, and Dumlao said they also planned to speak during International Week at LHS April 17-21.
Chinese students will visit Lansing for their part of the exchange in October.