Lions fall to De Soto in
2OT
Griffen nets two goals in first loss of season
Soccer is a team sport, and the Lansing High girls soccer team's 3-2 loss to De Soto in double overtime Thursday night proved it.
Not all of the Lions were at their best, but coach Rob Elkins admitted he wasn't perfect either. In fact, he took the blame for the game-winning goal.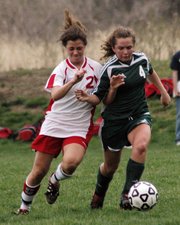 "I told them that goal was my fault, that last goal was," Elkins said. "Because it was."
De Soto sophomore forward Nicole Radcliffe was on the receiving end of a long pass on a breakaway. Elkins shouted for LHS sophomore goalkeeper Katie Nietzke to charge out of the goal and try to beat Radcliffe to the ball. Trouble was, Radcliffe had a good jump and got there first. She took one dribble around a diving Nietzke and one-touched the ball into the goal to seal the Wildcats' victory 2 minutes, 22 seconds into the second extra period.
"I told Katie, 'If I tell you to come out, don't even think. Come out,'" Elkins said. "And if she hadn't come out, would that goal have gone in? I don't know."
The final goal may have been Elkins' fault, but inconsistent play all over the field was the reason the game went to overtime in the first place.
The Lions (2-1-1 overall, 2-1 Northeast Kansas Soccer League) were sluggish throughout the first half, and the result was that they created very few scoring opportunities. Then, they fell behind in the 29th minute when the Wildcats scored on a well-placed shot from 25 yards out.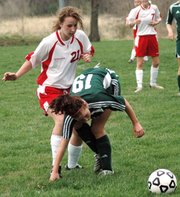 The score remained 1-0 until 53rd minute when LHS sophomore Erin Griffen came up with a loose ball, wheeled and fired from about 30 yards out. The shot lofted toward the goal, bounced off the keeper's hands and ricocheted into the net to tie the game.
Griffen gave the Lions a 2-1 lead 13 minutes later when she took a pass from sophomore Lauren Elkins and chipped it over the goalkeeper from 20 yards out.
Lansing protected its lead for barely six minutes. That's when De Soto's Danielle Price drilled a free kick off the crossbar. Jeni Hill gathered it off the rebound and fired it home to tie the game and force overtime.
De Soto created numerous scoring chances on breakaways during the first overtime because its forwards dropped back to midfield and stretched Lansing's defense. Just like she did less than 24 hours earlier during Lansing's scoreless tie with Blue Valley, junior defender Abby Hauver raced back to fend off numerous threats and give some support for Nietzke.
The Lions' missteps finally caught up with them in the second overtime period.
"Several girls played to their potential, and some of them didn't have good days," Elkins said.
Lansing next plays Monday at Topeka-Cair Paravel.