Slater returns, leads
LHS

at Bobcat Relays
Basehor — After missing the first two meets of the season with a hamstring injury, Lansing High senior Jeff Slater made his first appearance of the season on the track Friday at the Bobcat Relays at Basehor-Linwood High School.
Easing back into competition, Slater led the LHS boys to a third-place finish by winning the 400-meter dash in 51.17 seconds and helping the 400-meter relay team to a third-place finish in a season-best time of 45.29. Slater was joined on the relay by E.J. Corinealdi, Brenton Smith and Matt Sittenauer.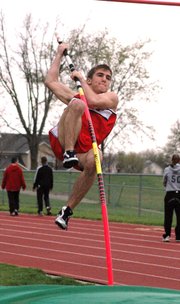 Bonner Springs won the boys team title with 146 points. Tonganoxie was second with 116 and LHS was third with 72.
Sittenauer was a two-event placer. In addition to helping the relay team place third, he also placed second in the 100-meter dash in 11.53 seconds. Sophomore Will Johnson placed fourth in the high jump and fourth in the triple jump. Senior Kyle Koontz was fifth in the triple jump and sixth in the 110-meter hurdles. Brian Cordes was second in the javelin with a throw of 144-feet, 4 inches. Kyle Buehler placed second in the pole vault with a jump of 10-6. Teammate Bobby Hauver was fourth in the event with a vault of 9-6. Nick Kelloff was fourth in the 300-meter hurdles in 45.72 seconds.
Two relay teams - the 3,200-meter relay team and the throwers relay - also placed. Brian Smith, Jason Bowman, Tim Torchio and Nate Markovetz teamed to place fourth in the 3.200-meter relay in 9:35.52. In the throwers relay - a 400-meter relay - Dan Eyerly, Brian Cordes, Sean Gowdy and Eric Watson cruised to a first-place finish in 50.48.
On the girls' side, Lansing placed fifth out of nine teams. LHS had 48.5 points. Tonganoxie was first with 227.5 points.
Erin Rogers turned in the top performance of the day for the Lansing girls as she won the pole vault with a jump of 8 feet, 6 inches. Senior Amanda Radovich also had a solid day as she placed third in the javelin with a throw of 118-4.
Senior Ashley Mayes made a strong showing in the 1,600-meter run as she cruised four laps on the track in 6:20.22. Riann Deere placed fourth in the 200-meter dash in 30.62 seconds, and Samantha Parr was fourth in the 400-meter dash in 1:05.76. Megan Sullivan was fifth in the triple jump with a leap of 28 feet. Senior Keele McLaurin was the Lions' top thrower in the discus as she placed fifth with a toss of 87 feet.
In the 1,600-meter relay, Parr, Deere, Brooke Didde and Erin Eustice teamed to place second in 4:42.95. The girls' 400-meter relay team of Ellie McNeil, Didde, Deere and Parr was fifth in 55.13 seconds.