FBLA

takes 5th at state, heads to national event
Lansing High School's Future Business Leaders of America team left even its sponsor stunned when it placed in the top five teams at the state conference last month.
The club, in only its second year at LHS, was named fifth out of 77 teams competing at the conference.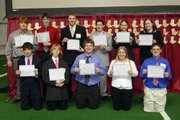 "I'm so proud of them," sponsor Sue Lednicky said.
What made the honor surprising for Lednicky was that this is only the second time her students have competed at state, and she didn't realize that a lot of other elements count toward the team's final score in addition to how well the students do in their state events.
Events done throughout the year such as recruiting for FBLA and community service are taken into account, Lednicky said.
When she filled out a form listing that type of information, she didn't realize it would be so valuable to the team. Next year, she said, she will keep more meticulous records of everything the club does.
"Even though we only had little things that we did, it all added up," she said.
Of course, the students' success at the competition, which was March 30 and 31 at the ExpoCenter in Topeka, did factor into the overall score. About half of the 23 Lansing students who participated at state placed in the top 10 in their events. One student, senior Stephen Fischer, placed in all five events in which he competed.
Fischer and three of his teammates also qualified for the national competition in Nashville, Tenn., June 29 through July 3. Seniors Sean Wooley and Marcus Bean and junior Matt Humphreys will accompany Fischer to nationals. Fischer, Wooley and Humphreys will participate in the business ethics event, in which they took first at state. Bean will compete in networking concepts.
Lansing school board cleared the team to attend the competition on Monday, April 10 - now they just have to find the money.
At the board meeting, Lednicky also secured a loan from the board to pay registration and room fees by the May 10 deadline. She promised that the team would have the money paid back by the end of June.
Lednicky said the students would begin fundraising this month, and they would fall back on their most successful endeavor from last year - car washing. The group also plans to sell drinks and put on a mini-carnival at Lansing DAZE in June.