Prisons museum plans slated for update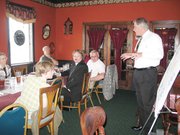 Plans for the Kansas Regional Prisons Museum in Lansing are slated for a makeover.
Architect Bob Johnson, a member of the museum's board of directors, will begin work on the updated plans after meeting in May with the board's infrastructure committee. Johnson got his marching orders during a meeting of the board on Tuesday at The Overlook restaurant.
"The drawings that you have right now were made when the vision was relatively modest to what you have now," said Johnson, who drew up the initial drawings for the museum, which would sit on land outside the Lansing Correctional Facility.
A feasibility study presented earlier this year by a consulting group predicted such a museum could draw 20,000 people a year and pay its own operating costs.
The destination museum would display items of historical significance from the Lansing Correctional Facility, U.S. Penitentiary at Leavenworth, the U.S. Disciplinary Barracks at Fort Leavenworth and the Corrections Corporation of America prison in Leavenworth.
With the feasibility study in hand, board members are turning their attention to raising "seed funds" to get the project off the ground. To raise money, board members determined, they're going to need to show potential donors what the museum is all about, including the updated drawings.
"Let's craft a drawing that reflects more of what the vision is now than it initially was," Johnson told board members.
In June, Johnson will bring preliminary drawings back to the board for further evaluation.
The updated drawings were just one of the ideas floated during the meeting. Among the others was to create an online "virtual store" to sell items touting the museum even before dirt is turned on the site of the proposed structure.
Robert Ulin, a Lansing City Council member who sits on the museum's board of directors, said the store could prove to be a boon as a fundraiser.
"Maybe we need two things: We need to figure out what this thing is going to look like and how much it's going to cost; and No. 2, maybe we need to have a virtual presence on our Web site and then start bringing items into our store and see if we can't market that and generate some sales," he said.
Ulin told board members he and Mayor Kenneth Bernard had met about the proposed museum with members of the staffs of U.S. Sens. Sam Brownback and Pat Roberts and U.S. Rep. Jim Ryun last month in Washington, D.C. The city officials are seeking a $2 million congressional earmark for the museum, which they say could be an economic engine for the community.
"This is not about tourism; this is about economic development," Ulin said. "How do we create a destination in this town that would draw people in here, that would stimulate economic development so that people would come up here and shop in our stores, eat in our restaurants, stay in our hotels, get their cars fixed and their gas, and so on and so forth."
Ulin cautioned the board that the climate for earmarks was not very good on Capitol Hill in the aftermath of the scandal involving lobbyist Jack Abrahmoff. Requests would be scrutinized again and again.
"It's the way that congressmen and senators bring something back to the district so that they can show that they're adding value to their communities by returning our tax dollars back to the communities. So there's always going to be earmarks," he said.
"I think that the project we have is in pretty good shape."