Service Day helpers aid area senior citizens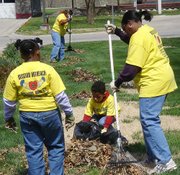 Mary Stewart got a helping hand on Saturday when a brigade of Leavenworth County 4-H members and parents donning work gloves and armed with rakes and clippers deployed themselves in her yard.
It was a boon for Stewart, a resident of Lansing for 54 years. Over time, it has become harder and harder for her to keep up with her yard work.
"I used to do this myself. I used to mow. But I just can't do it now," Stewart said. "I'd love to do it. I do a little bit, but not much."
Stewart requested the work be done by completing a form given to the Council on Aging by Leavenworth County 4-H that allowed senior citizens to request specific jobs be done and specify a convenient time.
The council has channeled the help of local organizations to its members for several years, Stewart said.
"It's about the third year," she said. "Sometimes it's Hallmark, sometimes it's 4-H. I know when Hallmark came they had a lot of the dads with them and they got up and cleaned my gutters."
Stewart was not sure why the 4-H'ers selected her request this year.
"I guess because I've been ill and I get Meals on Wheels and they just know I need help," she said.
The children at Stewart's house, who are involved with the Fort Leavenworth afterschool program School Age Services, which collaborates with 4-H, volunteered their time to help local senior citizens with spring cleaning.
Maj. Wendy Rivers is an active soldier and attends the Command and General Staff College, and her daughters Britney, 9, and Brianna, 8, were among the nine children who volunteered with the group that came to Lansing.
"It's an opportunity for us to help the community," Rivers said.
"It's a great program and School Age Services is right on the key with what we should be doing for the community."