Siblings set bowling standard
Wiehes win state title in doubles
Heather Wiehe has six more years to decide where she will attend college, but the Lansing Middle School sixth-grader already has her mind made up.
She wants to attend Wichita State University.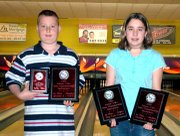 Heather wants to compete for its national powerhouse bowling program, which has won 14 national titles - seven for the men and seven for the women - since 1975.
"I've got Wichita stuff all over my room," she said, mentioning walls full of posters and other memorabilia of the Shockers' numerous titles, which include the women's 2005 national championship.
"She already knows what direction she's headed," her father, Ken Wiehe, said with a chuckle.
Heather certainly appears to be on her way. She and brother Tyler Wiehe, a Lansing Intermediate School fifth-grader, teamed to win the Kansas Youth State Bowling Tournament championship in the handicap doubles Division II at Park Lanes in Shawnee in December. In addition, Heather was a state champion in the prep girls scratch division and Tyler placed third in the prep boys handicap division.
The individual honors were nice, Heather and Tyler said, but the one they enjoyed most was the state championship they shared in doubles because it was so unexpected.
"We've never done anything like this before," Heather said. "We've never been on the same team."
More than 800 bowlers competed at state. Heather said the packed house was a little intimidating.
"I was pretty nervous," Heather admitted.
After a few warm-up rolls, the Wiehes settled down and took care of business.
"I saw how we were doing in the standings, and I was pretty excited," Tyler said.
Despite being state champions, Heather and Tyler said they probably wouldn't compete again in doubles until next year's state tournament. The reason, they said, is that they are in separate age divisions in their Saturday league at Skyway Lanes.
In addition to the Wiehes, three other Skyway Lanes bowlers won state titles. Cynthia Veney won the junior girl scratch division title, Lacey Angello was the Bantam girl scratch division winner and Lori Angello was the prep girl handicap division state champ. Anthony Veney placed third in the Bantam boys scratch division.