Bayless batters Bonner as
LHS

rolls
Senior goes 7-for-8, scores six runs in victory
Mike Bayless couldn't have scripted his Thursday much better.
Bayless, a senior center fielder on the Lansing High baseball team and an All-State selection in boys soccer last fall, inked his letter-of-intent Thursday afternoon to play college soccer at Missouri Southern, an NCAA Division II school in Joplin, Mo.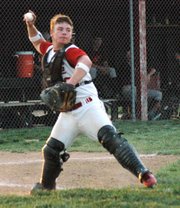 After that, he headed out to the LHS baseball field and helped his team win a pair of games against Kaw Valley League foe Bonner Springs. Lansing won the first game 15-4 and then took the second by a 14-5 score.
Bayless went 7-for-8 at the plate during the twinbill, scored six runs and had an RBI as LHS improved to 4-2 on the season and 2-0 in the KVL.
"It was a good day. I just got it all off my chest," Bayless said with a smile. "I was talking to some of the guys today. I hadn't been hitting too good this year, so this was a breakout game."
Bayless has been Lansing's leadoff man all season, but he struggled to put the ball in play during the first four games of the year. Thursday was a different story. He opened game one with a base hit and later came around to score. He then ignited the decisive third inning as he smacked a leadoff double. He later scored the first of five Lansing runs that inning.
Bayless again was a catalyst in the fourth inning when his leadoff triple led to a four-run inning for the Lions that put the game far out of reach. He added a fifth-inning double to conclude the first game with a 4-for-4 effort.
"He didn't have a very good two games against Turner. He really struggled, so kudos to him that he made adjustments and he came back today and hit the ball hard," LHS coach Troy Andrews said of Bayless' performance at the plate. "That was a pleasant surprise in our leadoff spot. He did a nice job tonight and really picked us up."
Bayless' bat was all the Lions needed to help starting pitcher Chris Wagner pick up his second victory of the season. Of course, the win could have come a little easier if the Lions hadn't made three errors in the first inning that led to Braves runs, but Wagner didn't let the defensive gaffes alter his play.
"You can't let things bother you, and he's perfect in that situation," Troy Andrews said. "That's his temperament, which makes him a good starting pitcher. You've got to have that mentality."
A calm and collected Wagner allowed just four hits and struck out eight in a complete game performance.
Although Bayless did most of the damage at the plate, sophomore Johnny Stratton put the exclamation mark on game one when his two-run homer in the bottom of the sixth inning pushed the Lions' lead to 11 and gave them a run-rule victory. The blast was Stratton's second of the season.
Lansing had a tougher fight on its hands in game two. Bonner opened the game with back-to-back doubles and took a 2-0 lead before LHS ever got to bat.
Once the Lions stepped to the plate, however, they answered right back. Bayless ripped a leadoff single and was forced out when Cody Mohan reached on a fielder's choice. Then Wagner reached base on an error. Jeff Terrill followed with a two-run double that tied the game.
Bonner plated two more runs in the top of the second and stretched its lead to 5-2 in the top of the third, but that's when Lansing had enough and seized control. Bayless ripped another leadoff single, Mohan doubled, Wagner tripled and Terrill smashed a two-run homer. That four-run spurt gave LHS the lead for good at 6-5.
The Lions were in charge, but they weren't content with a one-run lead. They rode the momentum of junior Matt McMillin's solid relief effort on the mound - he was almost untouchable - and then plated three more runs in the bottom of the fifth as Mohan doubled, Wagner and Terrill singled and Jordan Pratt hit a sacrifice fly. They then added five more runs in the sixth to seal the victory.
Lansing next plays at 4 p.m. Monday when it travels to Carbondale to play Santa Fe Trail. The Chargers traditionally are one of the league's powerhouse teams, so Bayless said a win or two in the series would be big for the Lions' confidence.
"If we can take two from them then we know we're one of the best in the state," he said.