Lane closing to continue another 3 to 4 weeks
Look for the lane closings on Main Street to continue for some time.
John Young, the city's public works director, said Monday that utility relocations on Main Street from Kansas Avenue to Helen Street and the attendant lane closing would continue at least for another three to four weeks.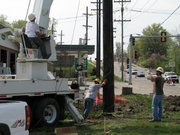 "I checked with Dennis Beaver with Kansas Gas, and he thinks now that the current lane closure will be in place for another 3-4 weeks. He noted the Westar activities that are going on in the same area, and difficulties with making service connections from the new line to all the businesses as contributing to the amount of time the work in this area is taking," Young said in an email to City Administrator Mike Smith on Monday.
The easternmost northbound lane of Main Street from Kansas Avenue to Ida Street has been closed as Kansas Gas Service Co. relocates its utility lines to make way for the Main Street System Enhancement project.
City officials originally thought the lane closing would last only a few weeks.
Other utilities taking advantage of the lane closing are Westar, which is installing new power lines farther back from the road, and Lan-Del Water District, which is moving back water mains.