Lang fans 16 as
LHS

splits with

SFT
The Lansing High softball team was unable to earn a sweep against Santa Fe Trail on Tuesday night at Lansing City Park, but the Lions won the game that mattered most.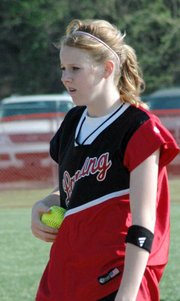 In softball doubleheaders, the first game counts in the league standings, and Lansing earned a 4-0 victory in the opener behind another dazzling performance from freshman pitcher Brittney Lang.
Lang struck out 16 batters, walked one and allowed just one hit as she won her third game of the season.
LHS dropped the second game 6-1.
"I hate to overshadow (the strong effort in game one), but we just didn't come to play the second game," LHS coach Terry Cornett said.
Lansing (5-3 overall, 2-1 Kaw Valley League) was as focused as it could possibly be in game one. Of course, much of that focus was used watching Lang mow down batter after batter. She had at least two strikeouts in every inning and ran her K count for the season to an astounding 54 in just four appearances.
Santa Fe notched its only hit - a flare to left field that was knocked down by the wind - in the second inning. Another runner reached base on a seventh-inning walk.
"I think it kind of stunned our girls as much as the girl who hit it, because nobody had even touched one," Cornett said of the Chargers' lone hit off Lang.
Lansing seized control of the game in the bottom of the first inning when senior Nicole Holland earned a leadoff walk, advanced to second on Amanda Darrow's walk and then scored on Nichole Twitchel's double to deep left field.
The Lions plated three more insurance runs in the fourth when Lang smashed a leadoff double to center, Sara Logan was hit by a pitch and Kasey Denney reached on a bunt. Lang later scored on a wild pitch, Logan scored on a ground ball by Holland and Denney scored on a sacrifice fly by Darrow. After that, Lang took care of the rest on the mound.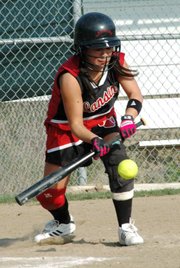 The Lions played five strong innings in game two before letting the game slip away. Senior pitcher Dana Sanders worked out of a few early jams and kept the Chargers at bay for three innings. In fact, the Lions took a 1-0 lead in the bottom of the third when Twitchel ripped a single and advanced to second on an error. Logan entered as a pinch runner and scored on a base hit by Morgan Chiles.
A leadoff solo homer in the fourth tied the game at 1-1, though, and that's when things began to unravel. The Chargers strung together three hits in the fifth and plated another run. They then got a leadoff single in the sixth, but Denney turned a double play on the next batter to clear the bases.
"I thought that was going to keep us in it," Cornett said of Denney's play. "And then the roof just caved in."
A walk. Three straight singles. A hit batter. Another single. Suddenly four more runs had been scored and LHS faced a 6-1 deficit. It was too much to overcome.
"We just broke down, and that bothers me," Cornett said. "We let one get away."
Cornett said he was pleased that his team won the first game, though, because it keeps the Lions in the hunt for a league championship.
LHS next plays at 4:30 p.m. Thursday at Perry-Lecompton.
JUNIOR VARSITY DROPS TWO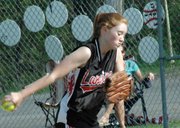 The Lansing High junior varsity softball team dropped a pair of games to Santa Fe Trail on Tuesday at Lansing City Park.
The Lions struggled in the opener as Andrea Shanks recorded their only hit, a single. The Lions played better defensively than they'd played in their first six games, but the Chargers simply hit the ball.
Lansing pitcher McKenna Hall went the distance and struck out six, but she allowed 10 hits and five walks.
The Lions gave game two pitcher Heather Kermashek much more offensive support, but the result was the same - a loss.
Santa Fe hung on for an 11-10 victory in eight innings, but Lansing rallied to force the extra inning and had the tying run on third when the final out was recorded.
Kermashek went the distance and struck out 11, but she walked nine and gave up nine hits.
Alyssa Donnelson went 3-for-5 with two doubles, a triple and four runs scored. Katie Smith blasted two doubles and had three RBI. Justine Patton had two hits, as did Lori Flippo.
Lansing next plays at 4:30 p.m. Thursday at Perry-Lecompton.